The dew point is an important measurand for many applications in the climate sector.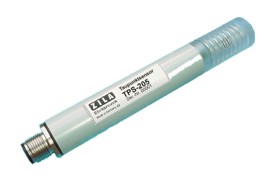 The dew point sensors can determine the dew point precisely due to the simultaneous measurement of temperature and relative humidity.
For the connection to measuring instruments and controls both the dew point and the temperature are provided as 0.5...5V and 0.5...10V signals.
This dewpoint sensors allow the measurement of dewpoint and temperature in the ambient air in indoor and outdoor areas under the defined operating conditions.

Range Dewpoint: -50...+80°C.

accuracy: ±2°C (30...100 % r.H.)
optional ±1°C (30...100 % r.H.)
output dewpoint: 0,5...5,0 V
response time: < 20 sec

Range Temperature: -20...+80°C

accuracy: ±0,5 K @ 25°C
response time: < 20 sec
output temperature: 0,5...5,0 V

Others:

Load resistant > 20 kOm
current consumtion about 0,8 mA
automatic selftest

Optional Interfaces:


RS232
Temperature switcher
Dewpoint switcher

Operating Conditions:

ambient operation temp. -20 bis +80 °C
protection mode
- Sensor IP 30
- Electronic IP 65
EMV and ESD: EN 50082-1, EN 50082-2

Applications

archiv monitoring
room air conditioning
Data logger and special wether stations

Power supply: 12..32 V DC

Range temperature: -40..85 °C

accuracy: +/-1,5°C
response time: <20 sec
output temperature: 0,5..5,0 V/ 0,5..10V
output dewpoint: 0,5..5,0 V/ 0,5..10V

Others:

Load resistant: >20 kOhm
current consumtion: about 15 mA
automatic selftest: if sensor error occurs the outputs will be switched > 10V

Operating conditions:

ambient operation temp: -40..+85°C
protect mode:
Sensor IP30
Electronic IP65
EMV and ESD: EN 50082-1, EN 50082-2

Applications:

archiv monitoring
room air conditioning
Data logger for supervision of storehouses and container