Aero_aH ventilation device with integrated heat recovery
ventilation device with integrated heat recovery AERO_aH
living space ventilation controller for controlled air exchange with integrated dehumidification controller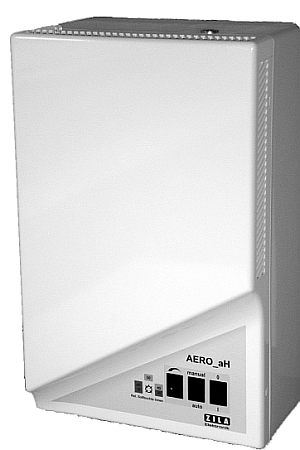 product features
conform according to DIN 1946-6 (2006) for ventilation operations in living areas
dehumidification output: up to 8kg water in 24h
air output per air stream: 10-30 m³/h
inherent noise: 30-40 dB (A)
sound absorption: Rw-1,9 = 31 dB Dn,w = 38 dB
control elements: 2 toggle switch, 1 control knob
probe connector : mit 5-pin screwed joint
power consumption: 10 - 15 W/h
power supply: 230VAC / 12VDC
current sonsuption: 0,06A
manuel mode
Die Frischluft wird mit dem im Gerät arbeitenden Gebläse über die Lüftungsöffnung von außen angesaugt, über den Wärmetauscher geleitet und durch integrierte Luftdüsen in den Raum gefördert. Die Förderleistung ist hierbei stufenlos per Drehknopf veränderbar. Zusätzlich ist mit Hilfe des Drehreglers die erhöhte Förderleistung für den Automatikbetrieb programmierbar.
automatic mode
Hierbei werden permanent aus den gemessenen Klimawerten (rH,t)Außen und Innen die absoluten Feuchtigkeitswerte aH OUT und aH IN berechnet. Das Gebläse schaltet automatisch in die erhöhte (programmierte) Förderleistung, wenn aH IN > aH OUT ist und wenn die gemessene relative Feuchte die eingestellte Feuchte (Beispiel: 50%) übersteigt. In dieser Betriebsart dient der Drehregler zur Einstellung der Wunschfeuchte im Innenraum.
technical specifications
connectors


inside climate probe (T,rF): Vb=5V, digital out
outside climate probe (T,rF): Vb=5V, digital out
Steckernetzgerät: 12V Gleichspannung
vent pipe with weather protection on the reverse side
measuring range climate probe:

inside: 0..100% rF
-20..+80°C
signal output: digital (rF,T)
outside: 0..100% rF
-20..+80°C
output: digital (rF,T)
accuracy T: +/-0,2°C
accuracy rF:+/-2%
temperature: 0...50 °C
relative humidity: 85% not condensing
housing protection: II
EMV/SD: EN50082-1/2
product data sheet
Application
controlled air exchange in living rooms according to DIN 1946
maintaining and control of desired humidity inside
basic ventilation for nbormal use
enhanced automatic ventilation level when the humidity increases
product description
Das AERO_aH verfügt über ein spezielles Lüftungsgebläse mit dem gleichzeitig über eine gemeinsame Lüftungsöffnung nach Außen Frischluft angesaugt und Abluft abtransportiert wird. Bei der integierten Wärmerückgewinnung wird der Luftstrom über einen Wärmetauscher geleitet, um damit einen Teil der Energie von der energetisch höherwertigen Abluft auf die zugeführte Frischluft zu übertragen. Mit Hilfe der im AERO_aH enhaltenen Mikrocomputersteuerung der beiden Klimafühler INNEN und AUSSEN ist zusätzlich zur Grundlüftung ein automatisch ablaufender Entfeuchtungsvorgang erreichbar.
scope of supply
climate and ventilation controller AERO_aH
climate probe KS10 with 2m cable
climate probe KS10 with 2 m Kabel und weather protection
installation instructions
price and availability
Nutzen Sie unsere Kontaktmöglichkeiten für ein individuelles Angebot zu unserer Lüftungssteuerung AERO_aH (Kompaktlüfter), indem Sie sich unter der Rufnummer +49 (0) 3681 86-7300 mit uns in Verbindung setzen. Alternativ können Sie sich per E-Mail This email address is being protected from spambots. You need JavaScript enabled to view it. an uns wenden. Unser Team freut sich auf Ihre Anfrage!