CO2 switch CSC-1: 4 switch outputs for direct control of industrial fans
This product can no longer be delivered.
Follow-up products: CO2 control unit CSC-20 YUGO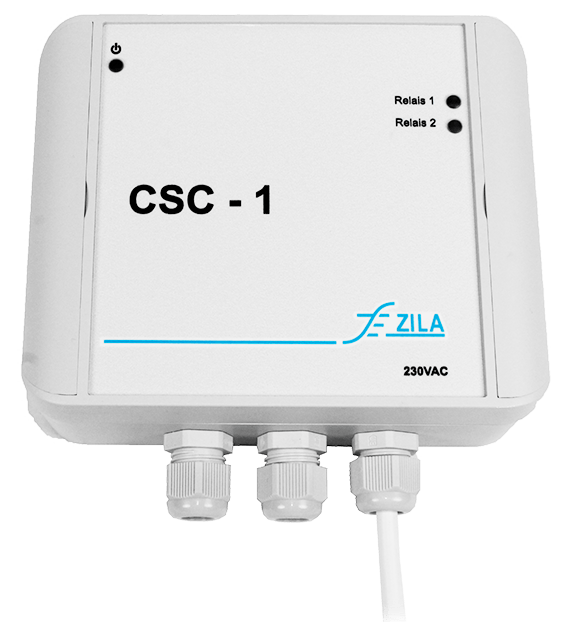 CO2 ventilation controller for maximum human and facility safety
CSC-1 is designed for the control of supply and exhaust air ventilation devices, based on the measured CO2 concentration.
A two-stage adjustable switching threshold is integrated into the device for automated ventilation function. The CSC-1 also has a direct 230V power supply and two switching contacts for fans, each with a maximum of 230VAC / 500W and two potential-free contacts. Thus motorized vent flaps in exhaust air ducts alongside electric window openers can be controlled.
Product Features
power supply: 230 V AC with power cable
Functions
Integrated control based on CO2 for controlling ventilation systems by 2-stage threshold
CO2-led automatic control of ventilation flaps by 2-stage threshold
2 adjustable switching thresholds in the range of: 500..3000 ppm

Default 1: 1000 ppm
Default 2: 1500 ppm
Technical Specifications
switching output 1: 230V / 500 W
switching output 2: 230V / 500 W
switching output 3: potential free (max.30V/1A)
switching output 4: potential free (max.30V/1A)
Measuring range


CO2: 0..3000 ppm
Output 1: CO2-Schwelle 1000/900 ppm
Output 2: CO2-Schwelle 1500/1400 ppm
Measuring Accuracy CO2: +/- 30 ppm (+/-3% span)

Operating and environmental conditions

temperature: 0...50 °C
relative humidity: 85 % non-condensing
international protection marking: IP66
EMV/ESD: EN50082-1/2
Fields of Application
Building Ventilation: Central or Decentral exhaust (2 air changes / hour recommended)
Control of motor-driven exhaust air vents in air ducts
automatische Belüftung
Data sheet
Other documents
Product description
CO2-led control of the ventilation devices (supply and exhaust air).
Scope of Delivery
Ventilation controller
CO2-Sensor integrated
power supply
 
Prices and availability
For an individual offer for alternative products of the CO2 switch CSC-1, please contact us by phone at
+49 (0) 3681 86-7300 , by email under This email address is being protected from spambots. You need JavaScript enabled to view it. or by using our contact form.
Our experienced sales team is looking forward to your enquiry!