air quality guard (IAQ) LGW-13
CO2 sensor with optical and acoustis warning signal for measuring the indoor air quality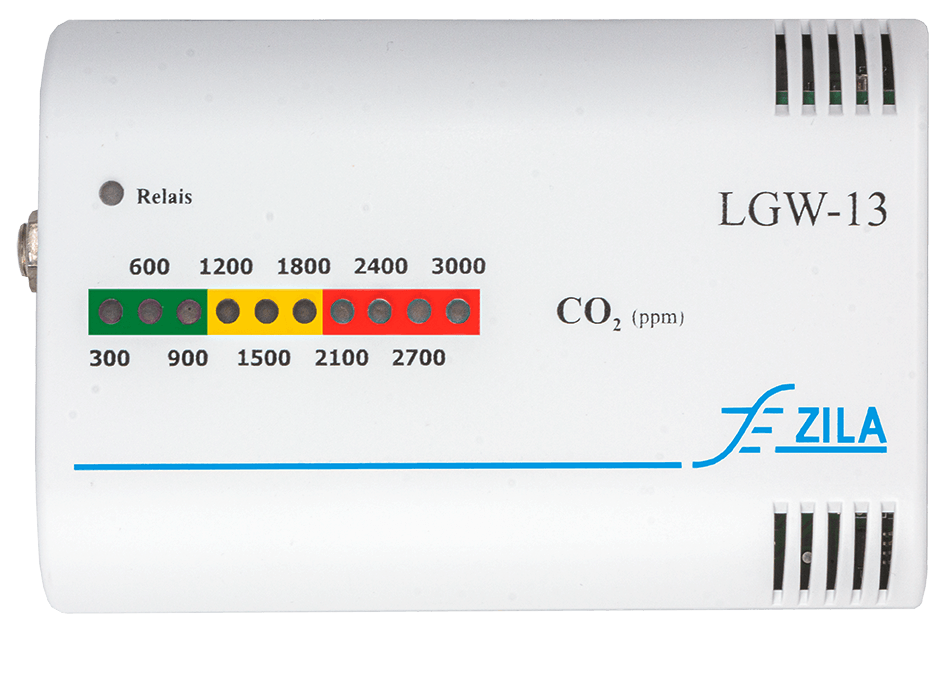 The indoor air quality guard LGW-13S and the LGW-13L is a versatile CO2 carbon dioxide sensor with a 10-digit LED display and a warning horn. They have a potential-free switching output. Furthermore, the LGW-13L has a 4...20mA and 0...10V signal output.
Product description
The amount of Carbon Dioxide CO2 in the fresh air is only about 0,034& but is used as an indicator for the indoor air quality. A carbon dioxide concentration of 1000ppm (0,1vol%) is the limit for clean air in rooms.This limit is known and called as the "pettenkofer number".
The indoor air quality guard LGW13 as a CO2 detector and sensor has been specially designed for the measurement and monitoring of ambient air quality. The air quality is represented by a 10-digit LED bar graph display. In addition to the current output and voltage output of the LGW-13 has potential free floating switching output as well as an audible alarm detector for CO2 measurement indoors. The combination of a very accurate CO2 measuring sensor and a carbon dioxide detector with a easy to use LED Display for the CO2 monitoring as well as different signal outputs (only variant L) make the LGW-13 to a flexible CO2 air quality monitor with a wide range of applications.
Product features
CO2-Sensor for measuring und monitoring carbon dioxide concentration
based on an optical measurement principle NDIR (non-dispersive infrared absorption measurement)
different measuring range avaiable (standard 0…3.000ppm)
10 digit LED bar graph shows the co2 concentration
adjustable potential free switching output
acoustic warning signal
Internal testing of device functions with Status LED
compact, white IP20 Housing
Technical specifications
4...20mA and 0...10V signal output
Standard measuring range: 0…3.000ppm
Optional measuring range: 0…1vol%, 0…3vol% (others on request)
Accuracy: +-3% vom measuring rage (30ppm at 3.000 ppm)
Relay output: potential free
Reaction time: ~ 20 sec
operating voltage:24 V DC, 150 mA
Environmental conditions


Operating temperature: -10...+50 °C
storage temperature: -40...+100 °C
Relative humidity: 15..95 %
| | |
| --- | --- |
| LGW-13S | LGW-13L |
| no CO2 signal output available | CO2 signal output: 4...20 mA and 0...10 V |
Areas of Application
Air quality traffic lights
Ventilation controller
Environmental monitoring
climate measurement
Heating and Refrigeration
OSH
Fire protection
Classrooms
Meeting and social rooms
Display function
Der indoor air quality guard LGW13 and CO2 Sensor has a 10 digit bar graph display that shows the concentration of CO2 carbon dioxide optically. A yellow LED signals the activation of the adjustable CO relay output. Another separate LED in the ventilation slots monitors the function of the CO2 Sensor. Extinction of the LED indicates an error condition of the CO2 sensor.
Functionality of the LED Signal: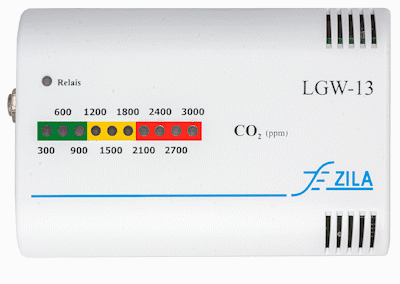 Switching function
The LGW-13 has 2 switching thresholds  depending on two pre configured CO2 limits. Limit1 switches potential free or a connected 24V ventilation unit via jumper. The acoustic alarm horn sounds depending on the set CO2 Limit2 (a quieter and louder volume level can be selected via jumper).
The air quality guard LGW13 proved itself already widely in practice. Companies from various industries use it as air quality traffic light. In the industry, our innovative device for measuring the air quality and the CO2 concentration is used in combination with ventilation control systems, which we also offer in our product range. The indoor air quality guard LGW-13 contributes to the protection of people and technology, such as the labor and fire protection for staff, machines and plants as well as heating and refrigeration.
Documents for the CO2 Sensor IAQ Guard LGW13
Declaration of conformity
Other documents
Optional accessories and scope of delivery
| | |
| --- | --- |
| Included in delivery: | optional equipment: |
| LGW-13 as surface-mounted device in variant S or L | 230V-Power supply |
Pricing and Availability
Ask for an individual offer for our air quality guard and Co2 Sensor LGW-13, by contacting the number +49 (0) 3681 86-7300. Alternatively, you can send us an e-mail to "This email address is being protected from spambots. You need JavaScript enabled to view it.". Our sales team is looking forward to your inquiry!