Air quality guard LGW-13 (IAQ)
CO2 sensor for measuring the room air quality with optical and acoustic warning signal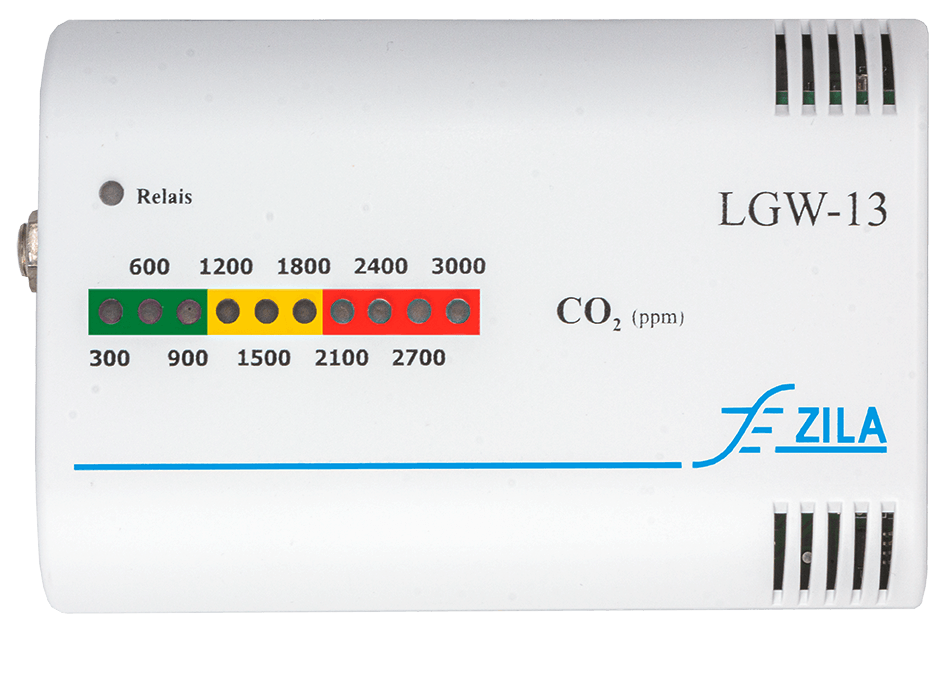 Multifunctional CO2 sensor with an LED display and acoustic alarm, equipped with switching functions both for industrial and residential applications
Relevance of CO2
The colourless, odourless, invisible gas CO2 (carbon dioxide) only has a volume share of approx. 0.034% in our fresh air and is used as an indicator for indoor air quality assessment. A CO2 concentration of 0.1% (1,000 ppm) is already regarded as the limit value for indoor spaces. This CO2 limit is known as the 'Pettenkofer value'.
Product description
The ZILA air quality guard LGW-13 for CO2 detection has especially been designed for measuring and monitoring the indoor air quality by means of a CO2 sensor. The air quality is indicated by a 10-digit display, similar to a traffic light. Besides the current and voltage output, the LGW-13 also features an acoustic alarm. The different switching outputs, depending on the version ordered (version S only potential-free output; version L potential-free output plus 4...20 mA and 0...10 V output) make the LGW-13 a flexible CO2 monitoring device with extensive approvals.
Product features
CO2 sensor for measuring und monitoring the carbon dioxide concentration
Optical measurement principle NDIR (non-dispersive infrared absorption measurement)
Available in different measuring ranges (standard 0…3,000ppm)
10-digit LED bar graph display showing the CO2 concentration (air quality traffic light)
Adjustable, potential-free switching output
4...20 mA and 0...10 V signal output (only for version L)
Acoustic alarm (depending on the set CO2 limit values)
Integrated function monitoring
Compact IP 20 wall-mounted housing (polycarbonate, white)
Available as a tabletop unit with power supply or for surface/wall-mounting without power supply
Technical specifications
Standard measuring range: 0…3,000ppm
Optional measuring ranges: 0…1 vol%, 0…3 vol% (others upon request)
Measuring accuracy: +-3% from the measuring range (30 ppm at 3,000 ppm)
Relay output: Potential-free
Reaction time: Approx. 20 s
Operating voltage: 24 V DC, 150 mA
Environmental conditions


Operating temperature: -10...+50 °C
Storage temperature: -40...+100 °C
Relative humidity: 15..95 %
| | |
| --- | --- |
| LGW-13S | LGW-13L |
| Only potential-free relay output, no CO2 signal output | Potential-free relay output & CO2 signal output: 4...20 mA and 0...10 V |
Fields of application
Air quality traffic light
Ventilation controls
Environmental monitoring
Climate measurement
Heating and refrigeration
Work safety
Fire protection
Classrooms
Meeting and conference rooms
Functions
Display function
The air quality guard has a 10-digit LED display with green, yellow and red LEDS, indicating the CO2 content of the ambient air. In addition, a yellow LED signals the adjustable CO2 relay output when activated. Another separate LED in the ventilation slots monitors the general functionality of the CO2 sensor and lights up when the supply voltage (24 V DC) is applied. If the LED turns off, the device is in error status.
How the air quality traffic light works (LED)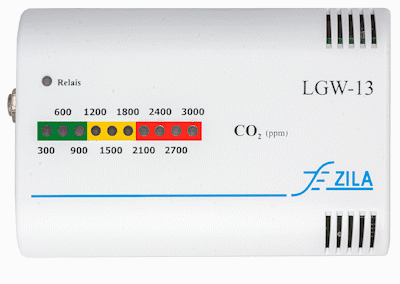 Switching function
The LGW-13 has a potential-free switching output, controlled by the adjustable CO2 limit value
(loadable: 24 V/2 A). This output can be configured for a 24-volt fan or a 24-volt based window opener.
The LGW-13's integrated acoustic alarm is adjustable, depending on the set CO2 limit value of the CO2 sensor.
ZILA's air quality guard LGW-13 has already been proven in many applications in practice. Companies from various industries use the device as an air quality traffic light. In the industrial sector, our innovative device is used to measure the air quality and CO2 content in combination with ventilation controls, which are also included in our product range.
In environmental monitoring and climate measurement, several companies rely on this high-quality CO2 measuring device. Last but not least, the air quality guard LGW-13 also contibutes to protecting both people and technology, for example in work safety and fire protection for employees, machines and systems, as well as in heating and cooling technology.
Optional accessories and scope of delivery
The scope of delivery includes:

Optional acessories:

LGW-13 as surface-mounted device in version S or L

as a tabletop unit with power supply or
for surface/wall-mounting without power supply

Version S: Only potential-free switching output, no CO2 signal output

Version L: Potential-free switching output and CO2 signal outputs (4...20 mA and 0...10 V)

230-volt power supply
 
Prices and availability
For an individual offer for our air quality guard LGW-13, please contact us by phone at
+49 (0) 3681 86-7300 , by email under This email address is being protected from spambots. You need JavaScript enabled to view it. or by using our contact form.
Our experienced sales team is looking forward to your enquiry!