Relative and absolute pressure transmitters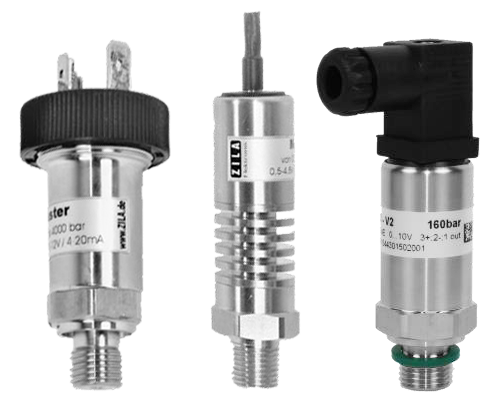 From low to high pressure, ideal for liquid and gaseous media - the ZILA ZT pressure transmitter series is a perfect solution for a wide range of industrial applications in hydraulics, pneumatics and process automation. High measuring accuracy and compact designs ensure the best measuring results possible.
When measuring the absolute pressure with absolute pressure transmitters, a perfect vacuum is assumed as a reference value. This type of pressure reference is the relative pressure of the medium and the pressure of the atmosphere. If the location changes during absolute pressure measurement, especially if there is a major change in altitude, the reference value may change due to the change in atmospheric pressure. When using an absolute pressure transmitter, the reference of a changing atmospheric pressure is not necessary, because one relies on certain pressure ranges of the absolute pressure transmitter.
Relative pressure uses the atmosphere (medium air) around the sensor as a reference. To measure exactly what kind of pressure is prevailing, a reference pressure value is required because the sensor element of the relative pressure transmitter shows a deflection due to pressure changes. One of the main reasons for using relative pressure transmitters to measure relative pressure is to ensure that anywhere in the world, a reference to the location where the transmitters are installed.
ZILA ZT pressure transmitters
Product feature

Options

V-series

N-series

F-series

H-series

Measuring range
in bar

 

0...0,6 
to
0…600

-1…0
to
 -1…24

0...0,6
to
 0…1.000

0…1.000
to
 0…4.000

Output signal

0...10 V, 3-wire

yes

yes

yes

yes

4…20 mA, 2-wire

yes

yes

yes

yes

0,5…4,5 V, ratiometric

yes

yes

yes

yes

0...5 V, 3-wire

 

yes

yes

yes

0…20 mA, 3-wire

 

yes

yes

yes

Electrical

connection

DIN EN 175301-803 A

yes

yes

yes

yes

DIN EN 175301-803 C

yes

yes

yes

yes

Binder M12X1

yes

yes

yes

yes

Packard Metripack

 

yes

yes

yes

Cable (length upon request)

 

yes

yes

yes

Others (upon request)

 

yes

yes

yes

Process
and
media connection

G 1/4" ISO 1179-2 (Male Form E)

yes

yes

yes

 

1/4" NPT

yes

yes

yes

 

7/16" 20 UNF Male

yes

yes

yes

 

G 1/4" DIN3852-2 (Male Form A)

 

yes

yes

 

G 1/2" Adapter

 

yes

yes

 

M10x1 Male

 

yes

yes

 

M14x1.5 Male

 

yes

yes

 

M16x1.5 Female with double seal cone

 
 
 

yes

M18x1.5 Male with double seal cone

 
 
 

yes

1/8" NPT Male

 

yes

yes

 

9/16" 18 UNF Male

 

yes

yes

 

Others (upon request)

 

yes

yes

yes
 
Prices and availability
For an individual offer for our relative and absolute pressure transmitters, please contact us by phone at
+49 (0) 3681 86-7300 , by email under This email address is being protected from spambots. You need JavaScript enabled to view it. or by using our contact form.
Our experienced sales team is looking forward to your enquiry!