Safety pressure limiter DB-1000/2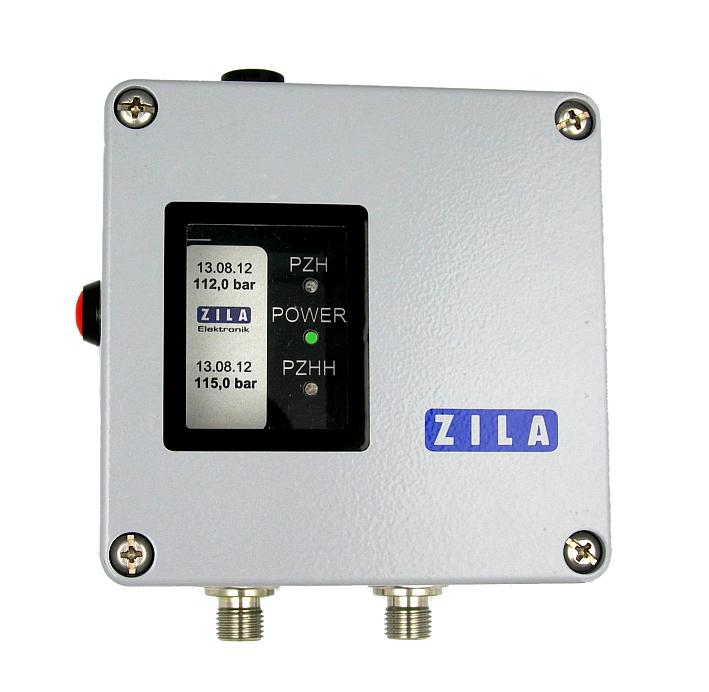 Electronic safety pressure limiter for minimum and maximum pressure limiting
Configurable with PC Software and Android App
Product description
The electronic safety pressure limiter DB 1000/2 is the combination of a pressure limiter (PZH) and an safety pressure limiter (PZHH) together in a common case and work independently of each other. The application is to prevent a transgression of the maximum operating pressure in refrigeration plants and air-conditioning systems in accordance with BGR 500, chapter 2.35 (operator) and EN 378 (manufacturer). Pressure limiter (PZH) and safety pressure limiter (PZHH) supervise the respectively oriented pressure threshold. At transgression the respective output relay is switched inactively and a signal LED flashes. The reset of the PZH is carried out by means of a button at the case. The PZHH can be resetted only after removal of the lid by means of a button.
Product features
Safety pressure limiter in accordance with EN 378 with self-test functions
internal errors cause the immediate switching off of the outputs and being shown by a LED-flash code
USB socket for the connection with PC or notebook computer
Parameter setting, reading of the appeared pressure maximum and other functions are possible with the help of an enclosed PC program
independent analogous pressure output of 4...20 mA (4 mA at 0 bar, 20 mA at nominal pressure)
Technical specifications
Pressure area
The pressure cells of the PZH and the PZHH will be choosed depending on use purpose. The nominal pressure (up to 4000 bar) is indicated in the model number.
Example: DB 1000/2 -- 50: Nominal pressure 50 bar
Pressure measuring cells: High-grade steel diaphragm, resistant to all refrigerants to EN 378-1 (appendix E), permitted overload up to double nominal pressure, the bursting pressure is the 2,5 times nominal pressure
Medium and operating conditions
Operating temperature: - 40.... + 60°C (for the device)
Temperature in media: -40...+125°C (under using of heat insulation between sensor and media
Shock proofed
Vibration speed max. 4,5 (10) mm/s (category B Class III in according ISO 2372 ) at 50 Hz
Protection class: IP 65 (when the lid is closed)
Resistance against all refrigerants to EN 378-1 (appendix E)
The safety pressure limiter is suitable for using with all refrigerants of the media group 1 und 2 in accordance with the Pressure Equipment Directive (PED) 2014/68/EU, for example
Mg1:NH3 (R717)
Mg2:R22, R134a, R507, R23, R744 (CO2), R404a, R407a, R407c
Certified according ""EG-Baumusterprüfung"" (Type Examination) (PED 2014/68/EU), Certificate-Number 01 202 973-B-16-0023 by TÜV Rheinland
Since May 2013 the DB1000/2 is admitted also for hydraulics applications until 500 bar.
Latest version of "DB1000 soft" for the safety pressure limiter: DB1000/2 software
 
Prices and availability
For an individual offer for our Safety pressure limiter DB-1000/2, please contact us by phone at
+49 (0) 3681 86-7300 , by email under This email address is being protected from spambots. You need JavaScript enabled to view it. or by using our contact form.
Our experienced sales team is looking forward to your enquiry!