DW500 Safety pressure limiter with pressure switch functionality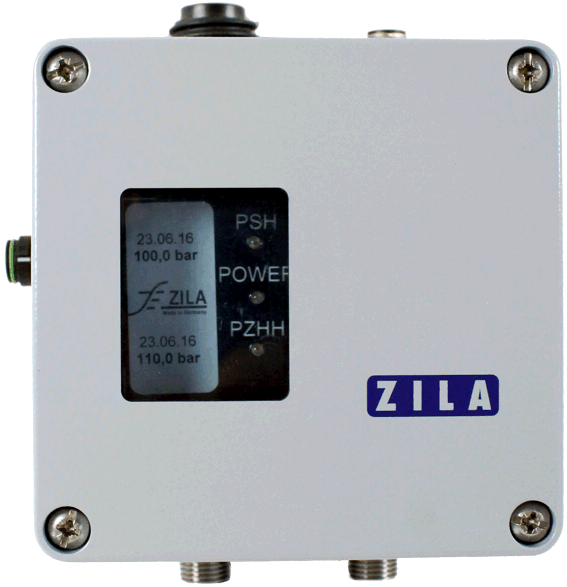 The comfortable and precise configurability of the switching thresholds and the hysteresis via software is a special feature of the pressure safety device.
The pressure safety device DW500, which combines the functions of a pressure switch and a safety pressure limiter in a common housing, is TÜV certified and type-tested up to 500 bar. The DW500 is used to protect against exceeding the maximum operating pressure or below the minimum operating pressure according to DGUV Rule 100-500 (BGR 500), Chapter 2.35 (Operator) and EN 378 (Manufacturer). The safety pressure limiter and the pressure monitor monitor the set pressure threshold and work independently in the encapsulated die-cast aluminum housing (IP 65).
Fields of application
As all refrigerants of Media Group 1 and 2 according to Pressure Equipment Directive 2014/68 / EU, such as R744 (CO2), can be used in conjunction with the electronic safety pressure limiter, this is an excellent device for use in compressors in refrigeration and air conditioning systems Heat pumps and steam boiler systems as well as general hydraulic systems.
Parameter configuration via software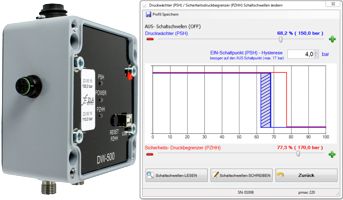 The biggest innovation of the device DW500 is the electronically adjustable hysteresis depending on the set threshold. When the set switch-on threshold is reached, the pressure switch automatically unlocks again.
The safety pressure limiter, however, is reset manually or remotely. For remote unlocking, a three-pin flange socket is located on the side of the device. Alternatively, an integrated button for manual reset of the safety pressure limiter can be selected. This is done by means of a reset button, which can only be operated after unscrewing the housing cover. In addition, the DW500 has an independent 4-20mA analog power interface for flexible plant integration. As a result, an external pressure sensor can be saved if the pressure of the system must be continuously monitored or displayed.
Precise adjustment of switching thresholds and switching delays
The safety pressure limiter DW500 with pressure monitor functionality is characterized by its high measuring accuracy and the precise adjustability of switching points (down to 0.1 bar accurate) and switching delays (in the range of 0-1 s with an accuracy of 0.1 s) by PC software , The switching relays can also be tested for their function. Due to the configurability of the switching points and the switching delays, systems can be optimally planned and used. The software-based testability also leads to significantly reduced commissioning and test times.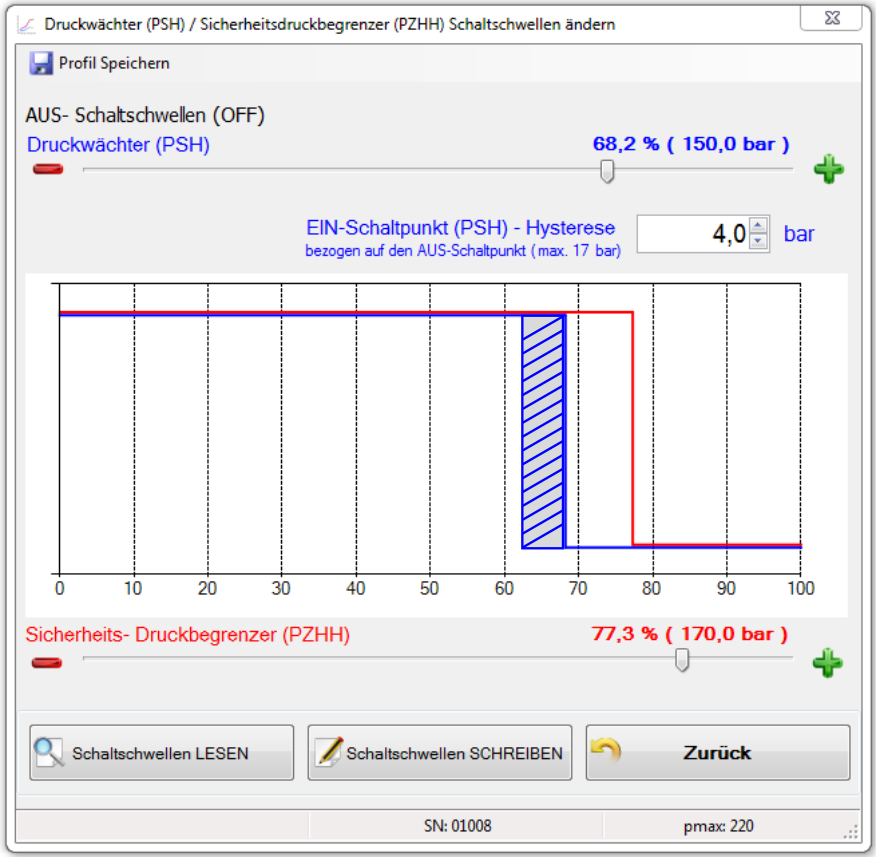 Certification and conformity
The device is TÜV Rheinland according to EC-type examination (PED Directive 2014/68 / EU), certificate no. 01 202 973-B-16-0023 certified.
Operating conditions
Operating temperature range: - 40.... + 60 °C (for electronics)
Medium temperature range: -40...+125 °C (thermal insulation measures between sensor and medium necessary)
Protection class: IP 65 (with cover closed)
Vibration exposure: vibration rate max. 4.5 (10) mm/s (Categorie B Class III according to ISO 2372 ) by 50 Hz
Pressure sensors
Stainless steel membrane
Resistant to all refrigerants according to EN 378-1 (Annex E)
Overload safe up to 2 x measuring range
Bursting pressure 2.5 times the nominal pressure
Switch point accuracy: better than 0.5% of full scale
Pressure measurement
Pressure measuring cycle: 1 ms
Integration: over 100 ms
Pressure threshold for PSx and PZxx separately adjustable between 5% and 90% of the nominal pressure
Hysteresis range for PSx 0 ... 7.5% of nominal pressure
Switch point accuracy: <0.5% of rated pressure
Switching delay time: 0.1 ... 1.1 s adjustable
Load capacity of the switching contacts of the safety relays
DC operation
24V DC1: no or weakly inductive loads (L / R <1 ms) maximum 9.0 A
DC13: DC magnets (contactor) maximum 1.8 A
AC operation
230V AC1: not o. Low inductive loads (cos phi> 0.95) maximum 6.3 A
AC3: Squirrel cage motors 2.5 A max
AC15: electromagnetic load (contactor> 72 VA) maximum 1.4 A
Electrical data
Supply voltage: 24 V +/- 20%
Current consumption: max. 90 mA
Power consumption: approx. 2 W
Media connection
G ¼ inch thread in standard version
Permissible voltage and permissible current at the alarm contact
Voltage rang: 5 ... 250 V (AC / DC)
Current range: 5 mA ... 6 A (AC / DC)
 
Prices and availability
For an individual offer for our safety pressure limiter DW500 with pressure switch functionality, please contact us by phone at+49 (0) 3681 86-7300 , by email under This email address is being protected from spambots. You need JavaScript enabled to view it. or by using our contact form.
Our experienced sales team is looking forward to your enquiry!