KST-20 Vento Airing Cooling Dehumidification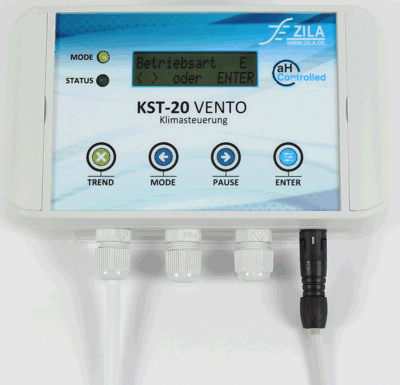 Klimasteuerung KST-20 VENTO
automatic, controlled ventilation and dehumidification and cooling of rooms with aH-Controlled technology *
* aH-Controlled: Dehumidification depending on the absolute humidity

product description
The KST-20 Vento is a climate controller with aH-Controlled technology for ventilation, dehumidification and cooling for private, commercial and industrial rooms of all kinds. With the three operating modes for ventilation, dehumidification and cooling, the climate controller KST-20 Vento can be flexible in almost all living, working and industrial areas are used.
Produkt features
Power supply: 230VAC
Protection class: IP 65
Dimensions in mm (LxWxH): 160 x 90 x 50
Housing: high quality ASA + PC (UL 94 V-0) for heavy duty, flame retardant and self-extinguishing
functions:
The new, compact climate control KST-20 Vento, for automatic and controlled dehumidification, ventilation and cooling of rooms, is an advanced control unit for ventilation equipment.
Residential ventilation DIN 1946-6
For living rooms, the device can conform to the DIN standard 1946-6 and control differentiated between different ventilation levels.
Temperature-dependent cooling
By simply adjusting the configuration parameters, the device becomes temperature-dependent cooling control for factories and manufacturing halls as well as for server rooms and many other sensitive electrical installations.
Dehumidification depending on the absolute humidity
In the dehumidification mode, the climate control KST-20 Calima is suitable for mold avoidance and protection of buildings as well as to maintain a comfortable feel-good climate. 
The room is controlled and reliably dehumidified and the device automatically ensures an optimum temperature and humidity ratio depending on the absolute humidity.
The basic principle of ZILA climate control systems is based on the comparison of the water vapor content of the room air and the outside air. The water vapor content is described by the absolute humidity (aH = absolute humidity) and is a measure of the "actual" moisture in the air. The comparison of the absolute humidity of the indoor and outdoor clima ensures that moist air is transported out of the rooms and that only dry air from outside is introduced. "AH Controlled" means the automated determination of suitable times for ventilation by the dehumidification or ventilation device, taking into account the climatic conditions inside and outside the building. The devices control the most common fans with and without heat recovery as well as motor-driven window openers fully automated. This technology ensures a healthy building and a good indoor climate and is also extremely energy-efficient, since it is only aired when the need arises and an air exchange is meaningful.
comfort functions
Zum Funktionsumfang der Klimasteuerung KST-20 Vento gehören neben den automatischen Betriebsmodi zur Lüftung, Entfeuchtung und Kühlung weitere Komfortfunktionen. Mit der integrierten Zeitschaltuhr können minutengenau Pausenzeiten und Aktivzeiten für die Lüftungsgeräte eingestellt werden. Über eine Taste am Gehäuse der Steuerung kann jederzeit ein Lüftungsvorgang manuell gestartet werden. Mit der "Frostschutz-Funktion" wird verhindert, dass der überwachte Raum zu sehr auskühlt, während eine "Trockenschutz-Funktion" dafür sorgt, dass die Feuchtigkeit im Raum für Mensch und Gebäude auf einem gesunden Niveau bleibt.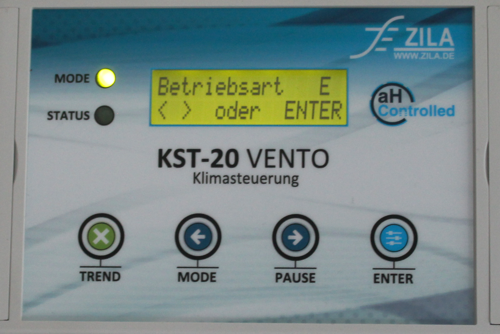 Über das beleuchtete Display und die Bedientasten lassen sich die verschiedenen Konfigurationen und Einstellungen komfortabel vornehmen.
Technische Spezifikationen
Measuring range humidity: 0 ... 100% RH,
Measuring accuracy humidity: ± 2%
Measuring range temperature: -40 ... + 80 ° C
Measuring accuracy Temperature: ± 0.2 ° C
Signal output: I2C
connection options
Separate connections for supply and exhaust air elements up to a maximum of 500 W
Alternatively, the following devices can be connected

1-stage ventilation fans
2-stage ventilation fans
Speed-controlled fans (0 ... 10VDC)
230V motorized window opener
12V ventilation flaps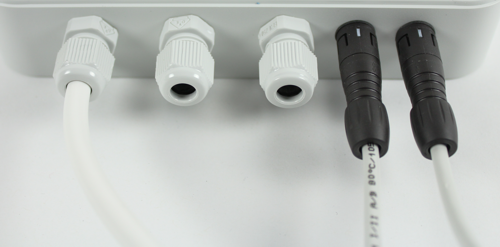 from left to right: Power supply, Actuator1, Actuator2, Climate sensor inside / outside, Climate sensor inside / outside
operating conditions
Temperature: 0 ... 50 ° C
relative humidity: 85% non-condensing
EMC / ESD: EN50082-1 / 2
Dehumidification of rooms and buildings, such as cellars, archives, museums, churches,
Cooling of production halls and server rooms
Ventilation of living spaces according to DIN 1946-6
Airing meeting and classrooms, sports halls and gyms