industrial co2 transmitter ZMF-100-IR
CO2 transmitter ZMF-100 IR
NDIR CO2 transmitter for industrial applications up to 50.000ppm
Robust CO2 sensor in an aluminum housing for industrial use with Optical Principle NDIR, for rapid and accurate measurement of carbon dioxide concentration.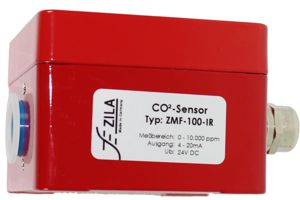 The ZMF-100-IR is a carbon dioxid CO2 sensor, designed solely for measuring the carbon dioxide concentration in the air, under the operating and ambient conditions mentioned below. The device is available in different measuring ranges and has an internal fault monitoring. The measurement of carbon dioxid CO2 concentration via the optical measuring principle NDIR. With the integrated 0...10V or 4...20mA output signal, the measurement signals can be evaluated by a downstream device. The sensor unit is located in an aluminum housing and is mounted on a diffusion opening. The cable entry is realized via cable glands. The device is powered via 24 V DC and can be mounted on the wall.
Data Sheet and technical specifications
product description
The CO2 sensor ZMF-100-IR in a rugged housing, making it suitable for industrial use, is based on infrared absorption measurement for detecting the concentration of CO2. The measuring range of the sensor for CO2 ranges from 0...50.000ppm therefore the device can be integrated into security concepts for machines and plants.
pricing and availability
Ask for an individual offer for our industrial Co2 Sensor ZMF-100-IR, by contacting the number "+49 (0) 3681 86-7300". Alternatively, you can send us an e-mail to "This email address is being protected from spambots. You need JavaScript enabled to view it.". Our sales team is looking forward to your inquiry!