External CO2 sensor ZCS-5000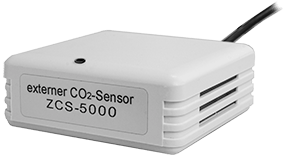 Self-contained CO2 sensor ZCS-5000 in a compact housing with integrated warning horn
Product description
The ZCS-5000 is a self-contained CO2 sensor for measuring and monitoring the carbon dioxide concentration in the ambient air. It comes with a cable connection and a warning horn. Thanks to its NDIR technology, the sensor is both durable and maintenance-free.
For example, applications include bar systems, office kitchens, rooms with CO2 bottles and near water bubblers, since these places are often poorly ventilated. Here, leakages would become a great danger for humans - something that the CO2 sensor ZCS-5000 can eliminate effectively.
Product advantages
Excellent long-term stability
Maintenance-free, due to NDIR technology
Suitable for use near CO2 bottles
Acoustic alarm thanks to integrated signal transmitter
Scope of delivery
CO2 sensor ZCS-5000 with fixed power supply (230 V)
Device without power supply (24 V DC) available upon request.
 
Prices and availability
For an individual offer for our external CO2 sensor ZCS-5000, please contact us by phone at
+49 (0) 3681 86-7300 , by email under This email address is being protected from spambots. You need JavaScript enabled to view it. or by using our contact form.
Our experienced sales team is looking forward to your enquiry!