KST-20 Vento with air quality monitoring function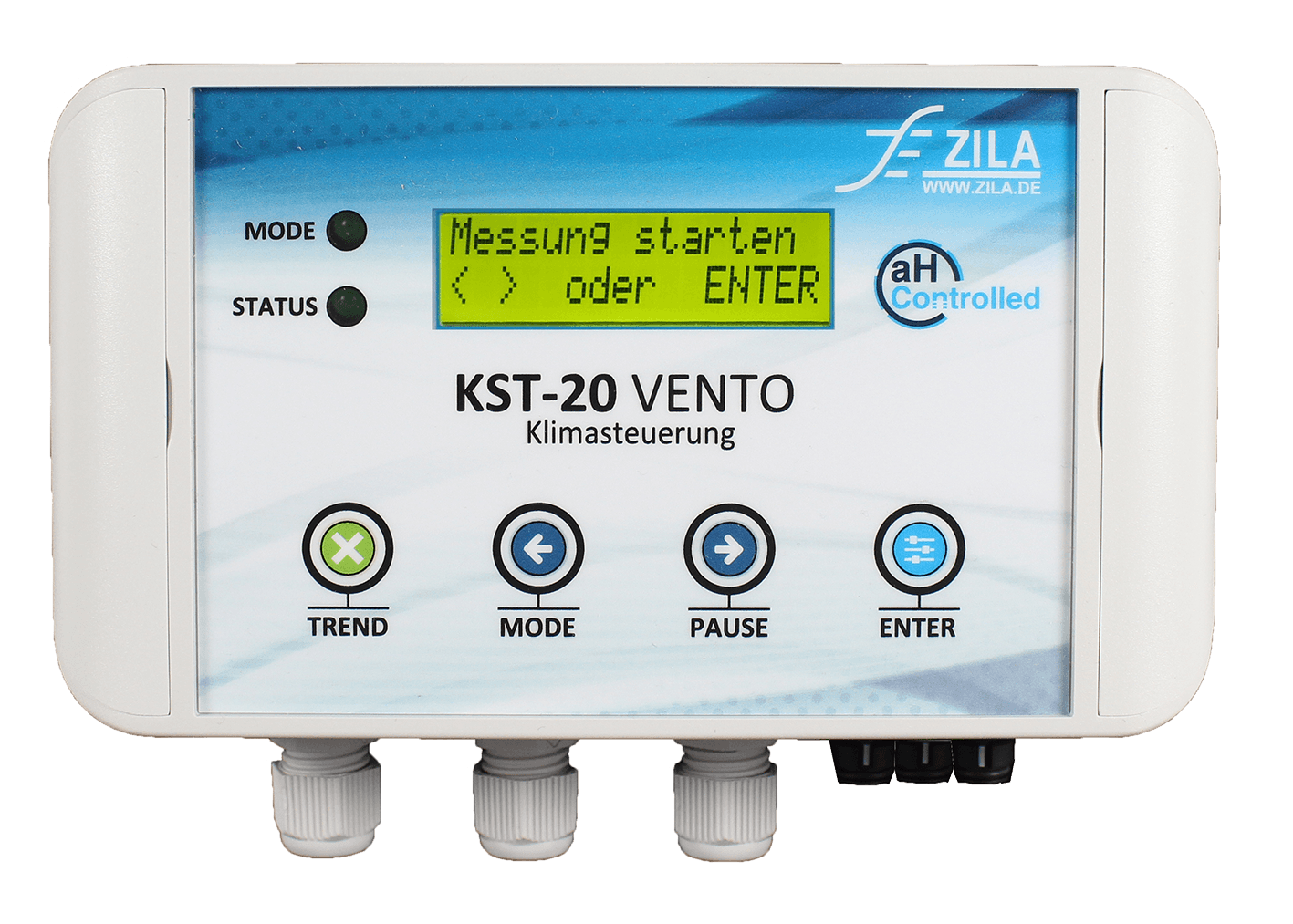 Climate control KST-20 VENTO/CO2
Automatic, controlled ventilation and dehumidification of rooms with the aH-Controlled technology*
*aH-Controlled: Dehumidification on the basis of the absolute humidity
Further information on this topic can be obtained here: aH-Controlled technology

Product description
The KST-20 Vento/CO2 is a climate control with aH-Controlled technology for ventilation and dehumidification of any private, commercial and industrial premises. With its three operating modes (ventilation, dehumidification and CO2 measurement) the climate control KST-20 Vento can be flexibly used in almost every living, working and industrial area.
Product features
Power supply: 230 V AC
Protection class: IP 65
Dimensions (LxWxH): 160 x 90 x 50 mm
Housing: High-quality ASA+PC (UL 94 V-0) for heavy-duty use, flame-resistant and self-extinguishing
Functions
The new, compact climate control KST-20 Vento/CO2 for automatic, controlled dehumidification and ventilation of rooms, is an advanced control unit for ventilation devices.
Intelligent CO2 ventilation
Too high CO2 concentrations can quickly become a danger for rooms as well as for entire buildings. The KST-20 Vento/CO2 air quality monitoring system is constantly tracking the carbon dioxide content of the air in the respective room. If the set limit value is exceeded, an automatic ventilation process is triggered. To do this, the climate control automatically activates the connected actuators and switches them off automatically after ventilation has been successful. We can thus assure you that rooms will be used under safe and healthy conditions.
Dehumidification depending on the absolute humidity
In dehumidification mode, the climate control KST-20 Vento/CO2 is ideal for mould prevention and building protection, as well as for creating and maintaining a comfortable feel-good climate. In this mode, moisture is removed from the room in a controlled and reliable way, so that an optimum temperature and humidity ratio in relation to the absolute humidity will be achieved automatically.
The basic principle of ZILA' s climate control systems lies in comparing the water vapour content of the room air and the and outside air. The water vapour content is defined by the absolute humidity (aH) and is a measure of the "actual" humidity in the air. Comparing the absolute humidity of the indoor and outdoor climate ensures that moist air is removed from inside and only drier air is introduced from outside. "aH Controlled" describes the automated determination of the right time to ventilate, considering the climatic conditions inside and outside the building.
Our devices are able to control the most common fans with and without heat recovery as well as motorised window openers fully automatically. This technology provides for healthy conditions in buildings, ensures a good indoor climate and works very energy-efficient, as ventilation is only carried out when necessary and if an air exchange makes sense.
Comfort functions
The range of functions of the climate control KST-20 Vento/CO2 includes automatic operating modes for ventilation and dehumidification, along with other advanced functions. With the integrated timer, pause and active times for the individual ventilation units can be set precisely down to the minute. A ventilation process can be started manually at any time using the button on the housing of the KST-20 Vento/CO2. The "frost protection function" prevents the monitored room from cooling down too much, while the "dry protection function" keeps the humidity inside at a healthy level for both humans and the building.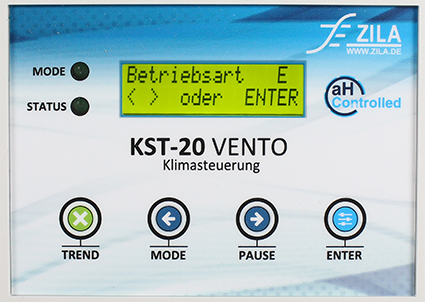 Various configurations and settings can easily be selected via the backlit display and the operating keys.
Technical specifications
Measuring range humidity: 0…100 % rH
Measuring accuracy: ±2 %
Measuring range temperature: -40… + 80 °C
Measuring accuracy temperature: ±0.2 °C
Signal output: I2C
Measuring range CO2: 0…5000 ppm
Adjustable limit values: 1000…1500 ppm
Connections
Seperate connections for supply and exhaust air elements up to 500 W max.
Alternatively the following devices can be connected:
One-step fans
Two-step fans
Speed-controlled fans (0…10 V DC)
230 V motorised window openers
12 V ventilation flaps
Operating conditions
Temperature: 0...50 °C
Relative humidity: 85 % non-condensing
EMC/ESD: EN50082-1/2
Dehumidification of rooms and buildings, such as cellars, basements, archives, museums and churches
Ventilation when the CO2 limit value is exceeded
Ventilation of meeting rooms, classrooms, sports halls and fitness studios

---
Dehumidification technology aH-Controlled briefly explained
Needs-based and user-independent cellar dehumidification with the KST-20 climate control
Energy-efficient room cooling with the KST-20 Vento
 
Prices and availability
For an individual offer for our climate control KST-20 Vento/CO2, please contact us by phone at
+49 (0) 3681 86-7300 , by email under This email address is being protected from spambots. You need JavaScript enabled to view it. or by using our contact form.
Our experienced sales team is looking forward to your enquiry!