Climate control KST-20 Calima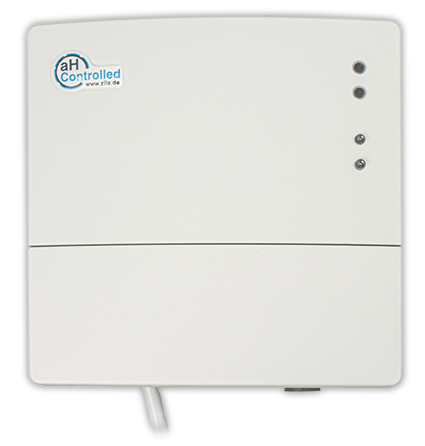 Climate control KST-20 Calima for dehumidification and domestic ventilation (DIN 1946-6) with aH-Controlled technology*
*aH-Controlled: Dehumidification on the basis of the absolute humidity
Further information on this topic can be obtained here: aH-Controlled technology

Product description
The KST-20 Calima is a climate control with aH-Controlled technology for ventilation, dehumidification and cooling for all kinds of private, commercial and industrial rooms. With its operating modes for living space ventilation and room dehumidification, the climate control KST-20 Calima can be implemented flexibly in almost any residential, work and industrial area.
Moreover, the KST-20 Calima is able to control supply and exhaust air fans. It offers the easiest installation and commissioning in our whole range of climate controls. While the device is mounted on the wall with just a few screws, all cables must be connected with the provided plugs. This saves you the time and effort to open the housing and carry out electrical work on the electronics.
Product features
All sensors and cables connectable without opening the housing
Innovative and simple plug and connection concept for quick mounting and commissioning
Automatic mode: Fully automated room ventilation and dehumidification
Manual ventilation process by pressing a button
Power supply: 230 V AC
Protection class: IP 65
Dimensions (LxWxH): 140 x 140 x 46 mm
Product description
The new, compact climate control KST-20 Calima is a flexible control device for fans and other actuators. It is suitable for preventing condensation and mould as well as for reducing humidity through automatic and controlled dehumidification. Moreover, room ventilation in accordance with DIN standard 1946-6 can be carried out.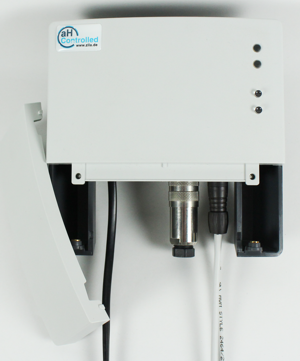 Domestic ventilation DIN 1946-6
In living spaces, the unit is able to comply with DIN standard 1946-6 and distinguish between different ventilation stages in a controlled manner. For this reason, there are connections for supply and exhaust air elements on the climate control.
Dehumidification on the basis of absolute humidity
In dehumidification mode, the KST-20 Vento climate control is ideal for mould prevention and structural protection while maintaining a comfortable feel-good climate. In the process, humidity is removed from the room in a controlled and reliable manner, so that an optimum temperature-humidity ratio is automatically ensured on the basis of absolute humidity.
The basic principle of ZILA climate controls is to compare the water vapour content of the indoor and outdoor air. The water vapour content is defined by the absolute humidity (=aH) and is a measure of the "actual" humidity in the air. Comparing the absolute humidity of the indoor and outdoor climate ensures that moist air is removed from rooms and only drier outdoor air is introduced. "aH Controlled" means that suitable times for ventilation are automatically determined by the ventilation and dehumidification control, considering the climatic conditions inside and outside a building. At the same time, the devices can control the most common fans with and without heat recovery, as well as motor-driven window openers, fully automatically. This technology not only maintains a healthy building structure and a comfortable indoor climate, but is also very energy-efficient, as ventilation is only carried out if necessary and an air exchange makes sense.
Comfort functions
In addition to the automatic operating modes for ventilation and dehumidification, the functional scope of the climate control KST-20 Calima also includes other comfort functions. A ventilation process can be started manually at any time using a button on the control unit's housing. The "frost protection function" prevents the monitored room from cooling down too much, while the "dry protection function" ensures that the humidity in the room remains at a healthy level for both people and the building.
Technical specifications
Measuring range humidity: 0…100% rH,
Measuring accuracy humidity: ±2%
Measuring range temperature: -40… + 80 °C
Measuring accuracy temperature: ±0.2 °C
Signal output: I2C
Connections
The device comes with two control and switching outputs for connecting the supply and exhaust air elements.
The following actuators can be connected:

One-step fans (room dehumidification)
Two-step fans (room dehumidification/ domestic ventilation)
Speed-controlled fans 0…10 V DC (domestic ventilation / dehumidification)

Operating conditions
Temperature: 0...50 °C
Relative humidity: 85 % non-condensing
EMC/ESD-checked: EN50082-1/2
Dehumidification of rooms and buildings, e.g. cellar, laundry and drying room, basement
Ventilation of living spaces such as bedroom, living room and playroom, according to DIN 1946-6
Ventilation of meeting and conference rooms, classrooms, sports halls and gyms

---
Dehumidification technology aH-Controlled briefly explained
 
Prices and availability
For an individual offer for our climate control KST-20 Calima, please contact us by phone at
+49 (0) 3681 86-7300 , by email under This email address is being protected from spambots. You need JavaScript enabled to view it. or by using our contact form.
Our experienced sales team is looking forward to your enquiry!