Digital climate probes: different housing designs and high measurement accuracy
Digital climate probes measure the temperature and relative humidity in a combined sensor element. 
Since the probes deliver the measured values as a digital protocol such as I2C they are the ideal solution for a variety of micro-controller applications.
The applied, innovative sensor technology allows very small dimensions and different electrical connections. That ensures that the climate probes can be supplied in small plastic housings, as rod probes in stainless steel housings and other compact designs for use in laboratories, machinery and equipment.
product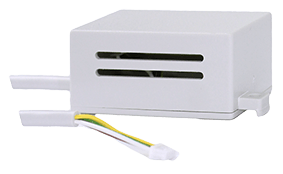 | | |
| --- | --- |
| type | KS-17 |
| housing | Plastic housing |
| measured values | Temperature and relative humidity |
| measuring range | 40...120 ° Celsius and 0...100 % rH (relative humidity) |
| sensor | Digital climate sensor, temperature: semiconductor, humidity capacitive (all devices) |
| power supply | 2,4...5,5 V |
| signal output | digital protocol |
| featured | housing for surface mounting |
The following products are no longer available. alternatives:
KS-17 or Analog humdity temperature probes
type
KS-10 / 11
KS-12
KS-13
product
housing
rod probe
ronde probe
plastic housing
measured values

temperature and relative humidity

measuring range

-40...120 ° Celsius and 0...100 % rH (relativ Humidity)

sensor

Digital climate sensor Temperature: semiconductor, humidity capacitively (all devices)

power supply
2,4...5,5 V DC
2,4...5,5 V DC
2,4...5,5 V DC
signal output
digital protocol
digital protocol

digital protocol

featured
cable sensor
housing: ronde
housing for surface mounting
Further digital climate probes from the KS climate probes product line
type
KS-14
KS-15
KS-16
product
housing
cavity-wall-housing
roid probe
pendulum probe
measured values

temperarture and relative humidity

measuring range

-40...80 °Celsius und 0...100 % rH

sensor

Digital climate sensor Temperature: semiconductor, humidity capacitively (all devices)

power supply
2,4...5,5 V DC
2,4...5,5 V DC
2,4...5,5 V DC
output
digital protocol
digital protocol
digital protocol
features
design: cavity wall
design: rod
design: pendulum