Electronic Pressure Switch, Pressure Cut Out and Safety Pressure Limiter
Highly precise pressure monitoring and pressure limiting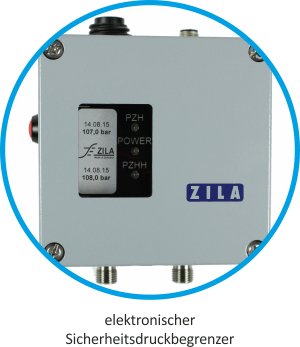 Based on broad experience in the field of electronic pressure sensors and pressure switches, the company has succeeded in developing a family of robust and reliable safety pressure devices for maximum and minimum pressure limiting. To maximize safety and usability the functionality of the pressure transmitters, pressure limiters, pressure switches and safety pressure limiters are combined in one compact IP 65 die-cast aluminum housing depending on the device version.
The first release of the safety device has been type-tested by TÜV Rheinland in the year of 2009. The approvals were gradually expanded in recent years, so that the safety pressure devices are now suitable for pressures up to 500 bar, for either maximum or minimum pressure limiting and in hazardous areas. The renewed TÜV certification in accordance with the Pressure Equipment Directive PED 2014/68/EU took place in 2016.
Safety pressure devices from ZILA
Designed for use with compressors in refrigerators and air conditioning systems, heat pumps and steam boiler plants as well as in various hydraulic systems.
ZILA GmbH

Designed for maximum reliability and durability
When emergencies happen, safety pressure devices have to handle the situation reliably and quickly.
The redundant design of the ZILA safety pressure devices and their self-test functions as well as the consequent use of high quality electronic components ensure best reliability and durability.
Pressure limiter (PSH/PSL)
Pressure limiters are control devices for limiting the pressure with two adjustable switching points (switch on and switch off). The switch-off point is used to limit the system pressure. Upon reaching the switch-on, normal operation is released automatically.
Pressure cut out (PZH/PZL)
Devices, which switch off below or above a set pressure limit are called pressure cut outs that can only be reset by manual intervention through authorized persons.
Safety pressure cut out (PZHH/PZLL)
A safety pressure cut out resembles a pressure cut out substantially. But the manual release is only possible by using an additional auxiliary.
Combined for maximum safety and easy installation
In many plants, pressure transmitters, pressure switches, pressure limiters and (safety) pressure cut outs are important for pretection of personnel and plant. For maximum safety, these devices are often used in combination in a safety chain. The installation and commissioning effort increases with the total number of devices to be installed. ZILA combines these functions in one electronic device in a robust housing.
Precise setting of parameters for accurate monitoring
The more accurate the device is configured and the better a machine or plant is monitored, the more optimized it can be dimensioned and used. When it comes to precision, the electronic safety pressure limiters DB1000/2 and DW500 are far ahead of the mechanical alternatives. This is provided by the high accuracy of electronic sensors and the precise adjustment of the switching points via PC software. The accuracy for setting the switching points for the ZILA safety pressure devices is 0.2% of the nominal pressure. Therefore, on a DB1000/2 with 100 bar the thresholds can be adjusted easily and accurately in 0.2 bar steps. Pressure safety devices from ZILA allow a perfectly optimized machine design.
Time savings during commissioning and device testing
Reduce time-consuming commissioning and device testing for safety-relevant components.

In addition to the switching point adjustment the user of the configuration software, that is also available as an Android app, can perform functional tests for the sensors and relays quickly and easily with a few clicks only. The time needed for testing is up to 80% less compared to conventional, mechanical pressure limiters. This is because neither a reference pressure gauge is needed, nor the pressure in the system must be increased for the electronic pressure safety device to be fully tested. Simply connect the device via USB to PC, laptop or smartphone - and there you go.
 
Prices and availability
For an individual offer for our electronic pressure limiters, please contact us by phone at
+49 (0) 3681 86-7300 , by email under This email address is being protected from spambots. You need JavaScript enabled to view it. or by using our contact form.
Our experienced sales team is looking forward to your enquiry!