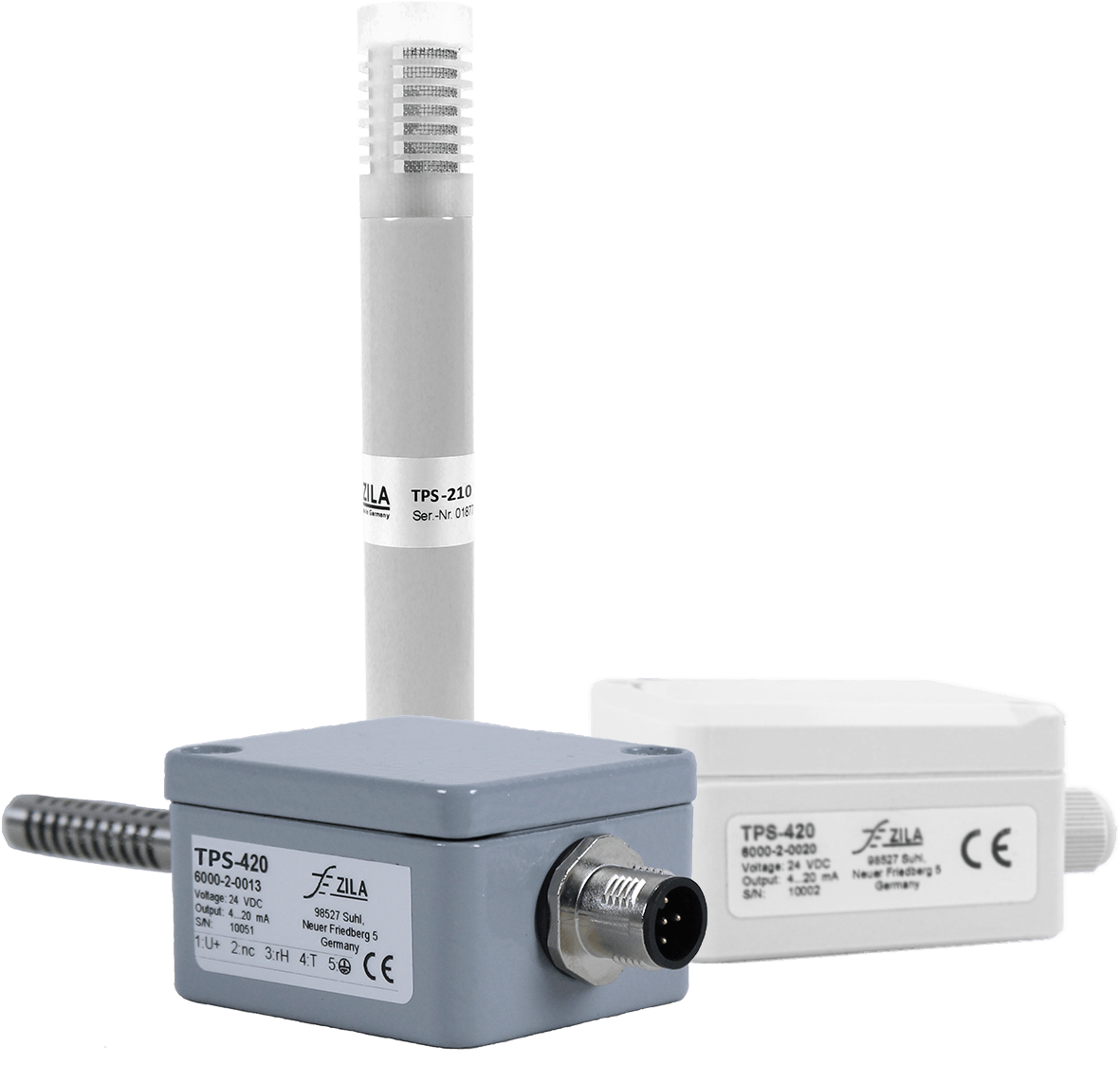 Sensors for dew point determination in a wide range of applications
Product description
ZILA's dew point sensors allow you to measure the dew point and ambient temperature directly, both indoors and outdoors. With their high reliability and long-term stability, their different housings and designs, these sensors cover a wide range of applications.
What is the dew point?

Air contains moisture in form of water vapour. The warmer the air, the more vapour it can absorb. If the air temperature drops, the absorption capacity of the air decreases and the water vapour which cannot be absorbed, begins to settle as condensation water.

The temperature at which water vapour begins to settle as fog or condensation is called 'dew point temperature'.
Dew point sensors for maximum accuracy
The dew point sensors TPS-410 and TPS-420 can be ordered with an aluminium or polycarbonate housing.
For the dew point sensors TPS-210 and TPS-220 in rod design, we offer PTFE, aluminium and plastic protective caps, depending on the application.
Model
TPS-410
TPS-420
TPS-210
TPS-220
Product picture

 

 

 

 

 


 
Housing
Aluminium or polycarbonate housing
Aluminium or polycarbonate housing
Anodised aluminium housing
Anodised aluminium housing
Measurands

Ambient temperature

Dew point temperature

Ambient temperature

Dew point temperature

Ambient temperature

Dew point temperature

Ambient temperature

Dew point temperature

Operating conditions for dew point measuring range

50...+80°C

 50...+80°C

-50...+80°C

 -50...+80°C
Operating conditions for temperature measuring range 

-40...+80°C

0...100%
relative humidity

-40...+80°C

0...100%
relative humidity

-40...+80°C

0...100%
relative humidity

-40...+80°C

0...100%
relative humidity

 

 

Deviation

± 0.2°C

± 0.2°C

 ± 0.2°C
 ± 0.2°C
Signal output 
0...10 V or 4...20 mA
0...10 V or 4...20 mA
 0...10 V or 4...20 mA
 0...10 V or 4...20 mA
Operating voltage
12...30 V DC
 24 V DC

12...30 V DC

  24 V DC
Loop voltage min
 
Load (Ohm) *0.02 + 8 V
 
Load (Ohm) *0.02 + 8 V
Loop voltage max
 
30 V
 
30 V
Power consumption
< 15 mA
 

< 15 mA

 
Special features

Compact and robust design
You can choose between a robust aluminium housing with a stainless steel rod or a polycarbonate housing.
Quick response time with low deviation
High reliability and long-term stability
Protection class: Housing IP66, Plug IP 67

Compact and robust design
You can choose between PTFE, aluminium or plastic protective caps.
Quick response time with low deviation
High reliability and long-term stability

 

Fields of application

Archive monitoring
Storage and container monitoring
Mechanical and plant engineering
(Mobile) room cooling
Weather stations

and many more 

Data sheets

 

 
 
Prices and availability
For an individual offer for our dew point sensors, please contact us by phone at
+49 (0) 3681 86-7300 , by email under This email address is being protected from spambots. You need JavaScript enabled to view it. or by using our contact form.
Our experienced sales team is looking forward to your enquiry!