Automatic room dehumidification with our exhaust fan Aero_aH_100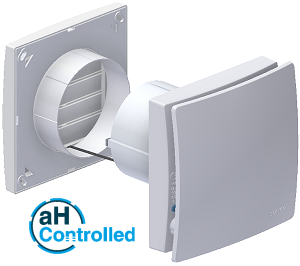 Exhaust air fan with integrated automatic dehumidification control 
Product description
The Aero_aH 100 is an exhaust air fan for small spaces up to 25m² (~90m³) and provides for automatic, user-independent and climate controlled dehumidification. The device comes with an integrated dehumidification control as well as an indoor and outdoor climate sensor. Controlled dehumidification is achieved by comparing the indoor and outdoor climate. To support and enhance dehumidification, additionally, users can directly connect and control a supply air fan with the Aero_aH 100.
Further information about dehumidification on the basis of the absolute humidity can be obtained here:
aH-Controlled technology
Product benefits
User-independent and climate-controlled ventilation by comparing the actual humidity in the air indoors and outdoors 
Fully automatic device with integrated indoor and outdoor climate sensor
Removes moisture and prevents condensation
Energy-efficient, as ventilation is only carried out if necessary
Easy installation since both climate sensors are fully integrated
Scope of delivery
The fan assembly is supplied with an integrated indoor climate sensor as well as an external cover with an integrated outdoor climate sensor.
Fan unit with indoor sensor
Exterior flap with outdoor sensor
Sensor cable
Foam tapes
Mounting and operating instructions
 
Prices and availability
For an individual offer for our exhaust air fan Aero_aH 100, please contact us by phone at
+49 (0) 3681 86-7300 , by email under This email address is being protected from spambots. You need JavaScript enabled to view it. or by using our contact form.
Our experienced sales team is looking forward to your enquiry!