Aero_aH100 automatic room dehumidification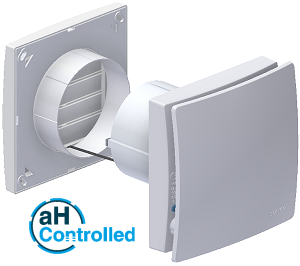 Exhaust Fan with integrated dehumidification controller for automatic room dehumidification.
Product Description
The Aero_aH 100 is an exhaust fan for small spaces up to 25m² (~90m³) and provides user independent, climate controlled and automatic dehumidification. The device comes with an integrated dehumidification controller and 2 climate probes for climate measurement inside and outside the building/room. The controlled dehumidification is realised by the comparison of the inside and outside climate based on the absolute humidity.
Further information on absolute humidity dependent dehumidification: aH controlled technology
The user can support and enhance the process of dehumidification by connecting a supply air fan directly on to the Aero_aH100 device.
product benefits
user independent and climate controlled airing through comparison of the absolute humidity inside/outside
comes fully automated with climate probes
dehumidificates the room and avoids condensation
energy efficient, airing only if the climate conditions are advantageous
easy and fast installation and mounting
scope of supply
The fan assembly comes with built-in indoor climate sensor and external cover with built-in outdoor climate sensor.
Fan unit with internal sensor
Exterior flap with outdoor sensor
Sensor cable
foam tapes
Installation and operating instructions