Electronic safety switching devices ES-2x Series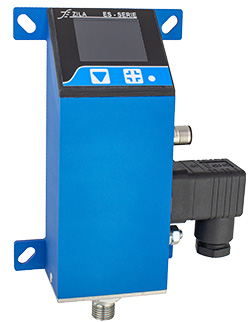 TÜV-certified, type-tested electronic safety switch for pressure limiting (SIL2)
pressure cut out | Pressure switch | Safety Pressure limiter | Pressure regulator
Monitoring of up to four pressure circuits
Simple and precise setting of switching thresholds, reset values and delay times
Robust, industrial-suited and fail-safe design
Integrated self-test functions
Measured value and alarm indication on the display
Comprehensive service functions, as well as data logging
On-site operation on the unit and via smartphone
ES-2x Series
The devices of the ES-2x series are electronic safety switching devices for pressure monitoring with comprehensive self-diagnosis functions and fail-safe design. The devices are used as pressure regulators, for minimum or maximum pressure limitation on compressors in cooling and air-conditioning systems, on heat pumps, steam boiler systems and on hydraulic systems.
With the exception of the integrated switching relays, there are no mechanically moving components, resulting in high vibration resistance and a long service life. The switching limits can be conveniently set and precisely monitored. Comprehensive self-diagnostic and logging functions ensure safe monitoring and fast shutdown of the source of danger as well as high traceability of events that have occurred. 
All units delivered as pressure monitors, pressure limiters or safety pressure limiters (also combined) are EU type-tested safety switching devices for pressure limitation.
 

 Designed for maximum safety and ease of use

 

Measurement of the pressure in redundant design
Main electronics with device intelligence and switching relay
Buttons for configuration and unlocking
Display for indication of pressure, alarms and device status as well as for menu navigation
Bluetooth module for wireless communication with a smartphone
Connector for power supply and for alarms, 4...20mA signal output, and remote unlocking
Connector plug for switching channels
Process connection (G1/4" female thread) or pipe fitting (differential pressure)
Dokumente und Downloads
Pressure regulator
The reaction of the unit to pressure changes can be freely defined by entering parameters, e.g. two-point controller, PID controller, etc. Further functions can be added at the customer's request.
Pressure switch (PSH, DWK)
Setting of a switching point and a reset point (hysteresis).
The unit is automatically reset or unlocked.
Pressure limiter (PZH, DBK)
Setting of a switching point.
Resetting and unlocking is done manually on the unit (without tools).
Safety pressure cut out (PZHH, SDBK)
Setting of a switching point.
Resetting and unlocking is done manually with a tool directly on the unit.
General information
The ES-2... units are constructed from a compact, anodised aluminium housing and, depending on the unit variant, are designed as pressure regulators, pressure limiters, pressure monitors or safety pressure limiters of special design. Combinations, such as series-connected pressure limiters and safety pressure limiters according to EN 378, are also implemented in one housing.
The units are delivered with preset limit values and parameters. By setting a password, the device is virtually "sealed". After release (password entry), authorised persons can change the device settings and carry out manual tests on the device or via the app.
Pressure measuring cells
Monolithic pressure measuring cells made of stainless steel are used for monitoring relative pressures. Since there are no sealing rings or weld seams, the devices of the ES-2... series offer a high degree of robustness and media compatibility, even with aggressive media. Regardless of the relative or differential pressure measurement, the fault-free function of the pressure measurement is checked and documented by the device itself during operation.

Switching outputs
The units have two independent switching outputs, which are connected to a self-monitoring switching output in the unit versions ES-21 and ES-22. The installed relays are permanently monitored by an additional circuit. Sophisticated circuitry reliably prevents opening failure. In addition, the switching function is independently checked by the unit both when the power supply is applied to the unit and at regular intervals during operation. For this purpose, it is not necessary to switch off the consumers connected behind it. In the event of a fault, the unit always switches to the safe state.
measurement channel extension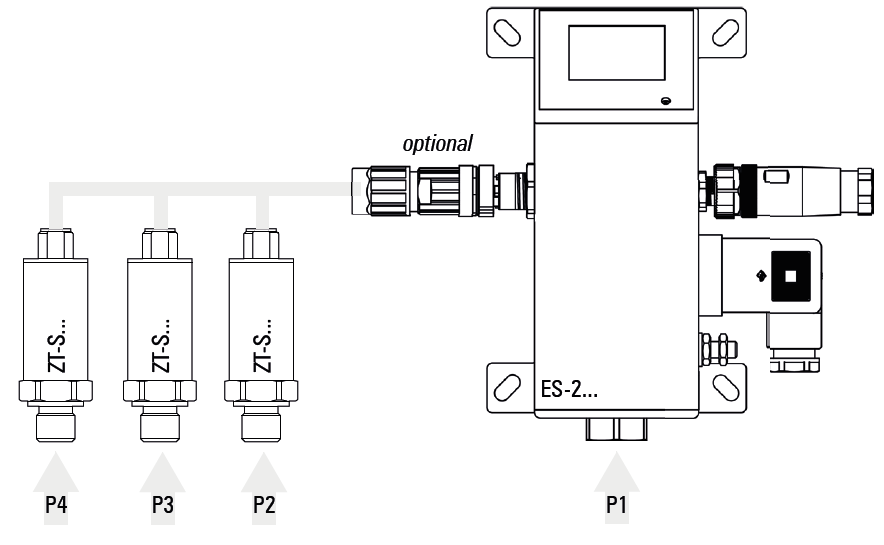 Depending on the application, it may be necessary to use several pressure monitors for several pressure circuits. In this case, an ES-2x unit can be equipped with a channel extension. For this purpose, specially developed SIL-2-capable pressure transmitters (ZT-S...) are connected to the ES unit via a safe communication interface. The ES unit
is able to monitor several pressure circuits and provides a collective alarm when one of the set limit values is reached.
Setting, logging and testing work the same way as with a single-channel unit.
Switching output extension
Besides additional measuring channels, further switching contacts are added by means of an extension unit (ESE). This makes it possible to set up a distributed safety chain, e.g. of several pressure transmitters and switching outputs.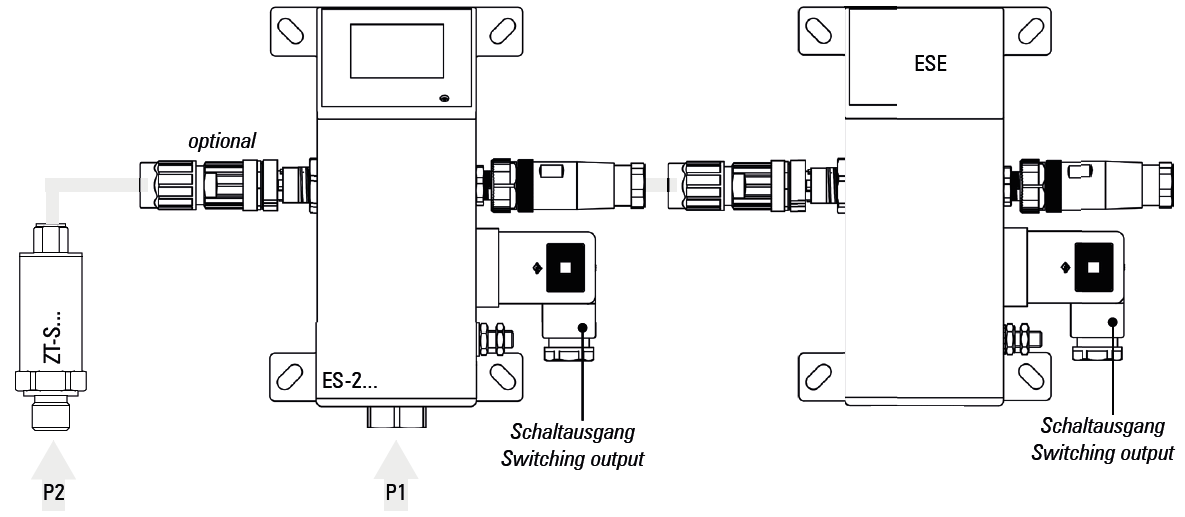 Connector mounting

Design variants of the ES-2.. Series
Feature
ES-21
ES-22
ES-20
ESE
SIL2 (ATEX)
yes, all devices
Type examination according to the Pressure Equipment Directive
yes, all variants
Number of safty functions

1 safety function

factory preset (DWK or DBK)

Two combined safety functions

factory preset

Two combined safety functions

freely selectable; to be specified when ordering

 
Direction of action 

Rising (maximum) or falling (minimum)

factory preset

Rising (maximum) or falling (minimum)

Combination maximum and minimum

To be defined when ordering: Combination maximum and minimum
 
optional measurement channel extension
no
with ZT-S pressure sensors
no
optional switiching output extension 
no
with ESE Extension box
Specifications
Operating voltage
16...32 V DC (max. 5,9 W)
Dimension
150 x 60 x 42 mm (L x W x H)
Housing
Aluminum (anodised)
Protection class
IP65
operating conditions
pressure type

relative pressure

differential pressure

media temperature
-40…+125 °C
ambient temperature
-20…+65 °C
parts in contact with medium
stainless steel
process connection (Adapter on request)
version relative pressure
 G ¼" internal thread
version differential pressure
 G 1⁄8" internal thread
electrical connection 
Analogue current output
 1 x 4…20 mA
 Digital Input / Output
Configurable as 2 x alarm
or 1 x alarm and 1 x
Remote unlocking
Load capacity of the switching contacts
DC1: 16 A (24 V)
DC13: 1,5 A (24 V)
AC1: 16 A
AC3: 10 A
AC15: 7 A
Measurement ranges
Merkmal
Relativdruck
Differenzdruck
Measuring range
(nominal pressure)
-1…500 bar
variable selectable
0…1 mbar
0…10 mbar
0…50 mbar
0…100 mbar
0…250 mbar
0…1.000 mbar
Overload pressure
2 x Nominal pressure
10 x nominal pressure
Bursting pressure
4 x nominal pressure
15 x nominal pressure
Setting accuracy
0,1 % of nominal pressure
... Further measuring ranges on request

Wireless communication with Smartphone
The convenient setting of limit values, delay times and a configuration of the inputs and outputs is easily possible with the smartphone. In addition, various devices of the ES series can be managed and their device profiles saved. Manual device tests (e.g. switching of relays) can be carried out without applying pressure.

Provision and download of setting and test protocols
The units are preset at the factory. In addition, they carry out regular self-diagnosis independently. The setting log, all test results, alarms and device changes can be called up via the app.

Integrated Datenlogger
The ES units function as data loggers with internal device memory and timer. In addition to the process pressure, the temperature at the process connection is also recorded. Depending on the application, the measuring time, interval or continuous measurement is set.

Leak testing of machines and plants
When commissioning a plant, the devices of the ES series are also used for leak testing due to their precise measuring characteristics. For this purpose, the pressure drop and the temperature conditions at the process connection are determined and documented over an adjustable test time. The leak test protocol is stored in the device and read out via smartphone.
read out.
Refrigeration systems and heat pumps
Ventilation, heating and air-conditioning technology
Filter and pump monitoring
Hot water and steam boiler monitoring
Process measurement technology
Mechanical and plant engineering