Proper cellar and basement dehumidification - mould prevention & building fabric preservation

In this article you will find information on how climate-controlled, needs-based, regulated and user-independent cellar and basement dehumidification works.
A ventilation control, based on absolute humidity, is ideal for dehumidifying cellars and basements in existing properties, renovated residential buildings and modernised office complexes.  ZILA GmbH
Cellar and basement dehumidification in case of mould and moisture
There are numerous causes of mould and moisture in cellars and basements.
Damp walls, musty smells and mould growth often result from the following causes:
Incorrect or insufficient ventilation in basement rooms and living areas
Structural conditions and missing or too few basement windows make adequate ventilation impossible.
Very tight building shells after renovation or modernisation of existing properties, so that the air circulation in the basement vaults is not sufficient.
So, does this mean that all you have to do to dehumidify your cellar or basement is open a window regularly and the moisture will disappear? Unfortunately, that's not true! For a successful cellar / basement dehumidification, the climatic conditions in the moisture-prone cellar or basement itself as well as the environmental conditions (outside) must be recorded in order to find the best times for dehumidification and ventilation.
Climatic conditions and absolute humidity

The climatic conditions are a combination of temperature (T - Temperature) and relative humidity (rH - relative Humidity) measurements. These are recorded with a ventilation or dehumidification control, using an indoor climate sensor inside and an outdoor climate sensor outside (Temperature and humidity transmitters).
At this point, the most important factor for successful dehumidification of the cellar and basement becomes crucial: When choosing a ventilation control for the cellar or basement to be dehumidified, be sure that it works on the basis of absolute humidity (aH).
Advantages of the absolute humidity approach
The absolute humidity is a measured variable, calculated from the temperature and the relative humidity by all of our climate controls and indicates the actual humidity content of the air. By comparing the absolute humidity indoors and outdoors, an automated ventilation process can be carried out by the controls. This is to replace the moist air in a reliable, needs-based manner without a user being present, eliminating the danger of even more moist air from outside entering an already too damp room, cellar or basement.

Reasons for installing a ventilation control for cellar or basement dehumidification
We have already mentioned various reasons for using a ventilation control in the cellar or basement. It works reliably and physically / mathematically correct so that, in the end, dehumidification will be successful. One more reason is that incorrect ventilation can be avoided with our controls. Some more reasons for a ventilation control include:
Mould prevention through reliable and physically correct cellar / basement dehumidification
Easy installation of all our devices in moist cellars / basements
Intelligent functions for controlling all common supply and exhaust air fans or electric window openers facilitate cellar / basement dehumidification
Great comfort functions, such as dry and frost protection
Determination of optimum ventilation times in the cellar 24 / 7, 365 days a year
Timer for automated dehumidification processes and adjustable active and pause times
Dehumidification during the whole day, even if the user is absent
Technology and relevant sectors for our climate controls
The climate and dehumidification control features both an indoor and an outdoor climate sensor. In this way, cellar and basement dehumidification with our convincing aH-Controlled technology can be implemented. Automated and useful functions allow for user-independent ventilation and adjustable parameters ensure full flexibility. Thanks to the switching outputs and intelligent software for supply and exhaust air elements, our climate controls are ideal for needs-based room dehumidification, in particular for cellars and basements.
Our solutions for cellar and basement dehumidification are perfectly suitable for:
Property managers and housing cooperatives
Landlords, modernisers and renovators
Homeowners
Construction engineers, designers, planners and architects
Ventilation fitters
Construction biologists and experts
and many more....
Our controls can also help remove moisture from vaulted cellars in museums and sacred buildings. Another possible application includes sports and leisure facilities. Proper dehumidification in the cellar can not only prevent mould growth, but can also help protect the building fabric in the long term.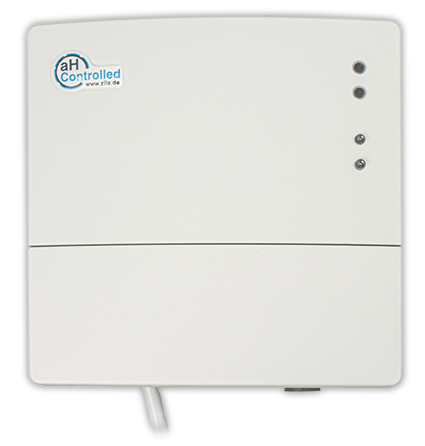 Suitable for ventilation (DIN 19646-6) or dehumidification of all kinds of rooms
Dehumidification on the basis of our aH-Controlled technology
Modern housing design making it particularly suitable for living areas
2 control / switching outputs for supply and exhaust air elements
Simple fan connection via plug without opening the housing
2 LEDs for status display, 2 operating keys for configuration
Manual ventilation process by pressing a button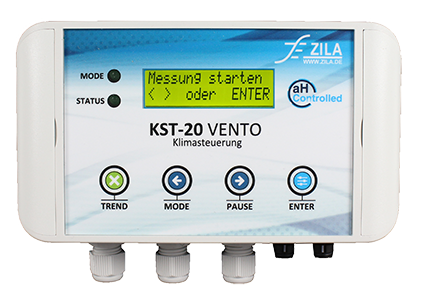 3 selectable operating modes

Dehumidification on the basis of our aH-Controlled technology
Ventilation according to DIN1946-6
Cooling depending on the temperature

Extensive connections for any common ventilation device
Display and operating keys for configuring the operating modes and indicating the present climate data
Separate connections for supply and exhaust air elements
Comfort functions, such as dry and frost protection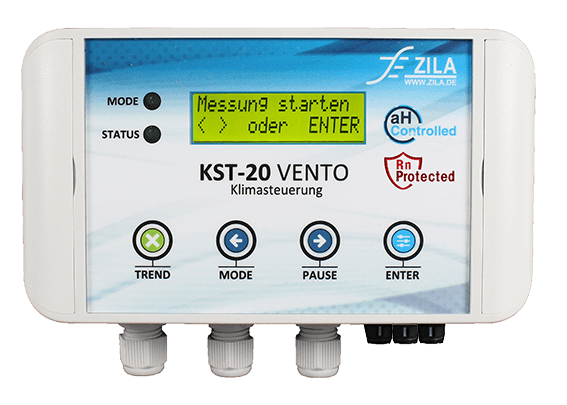 2 selectable operating modes

Dehumidification on the basis of our aH-Controlled technology
Ventilation, based on the measured radon values

Extensive connections for any common ventilation device
Display and operating keys for configuring the operating modes and indicating the present climate data and radon values
Separate connections for supply and exhaust air elements
Comfort functions, such as dry and frost protection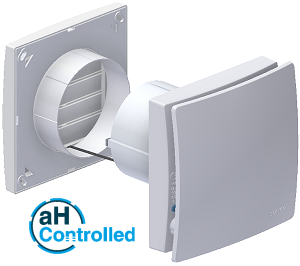 Specially designed unit for dehumidification of cellars, garages and other adjoining rooms
Compact all-in-one solution, consisting of a fan and electronics working on the basis of our aH-Controlled technology
Exhaust air fan for automated, controlled room dehumidification
Integrated climate sensors for recording the climatic conditions inside and outside a building
Connection of additional supply air fans available, if required
Easy mounting, installation and commissioning