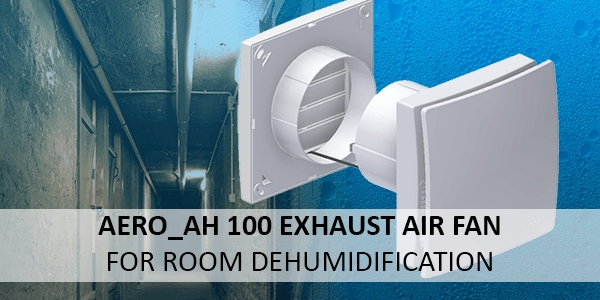 Aero_aH 100 Abluftventilator für Kleinräume
Our Aero_aH 100 - an exhaust air fan for room dehumidification
The Aero_aH 100 with its integrated electronic unit for detecting the climatic conditions inside and outside a building uses innovative technology providing for automated, regulated and climate-controlled dehumidification of rooms.
ZILA GmbH, based in Suhl, Germany, can look back on more than 20 years of experience in the fields of heating, ventilation and climate technology, and, with that, has extensive expertise, covering the areas of pressure, climate, leakage and ventilation. With our climate controls, we have always been contributing to energy-efficient ventilation, achieving a healthy feel-good climate as well as preserving and protecting the fabric of buildings.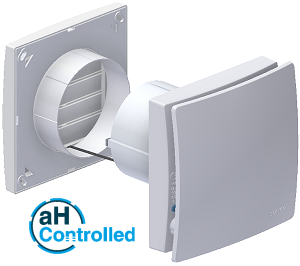 The Aero_aH 100 is a small room fan for automatic and controlled dehumidification of rooms, suitable in particular for living rooms, cellars, garages and similar rooms with too high humidity where condensation or even mould starts to form. The device is equipped with an integrated indoor climate sensor and a separate outdoor climate sensor. Controlled dehumidification is achieved by comparing the indoor and outdoor climate. For this purpose, the absolute humidity (aH) is determined as a measure of the water vapour content in the air by means of the two climate sensors (indoor and outdoor climate sensor).
The measuring principle of determining and comparing the absolute humidity for indoor and outdoor areas as a basis for room ventilation and dehumidification is what we refer to as "aH-Controlled". The measurement takes place immediately after the device is switched on. As soon as the absolute outdoor humidity is lower than the absolute indoor humidity (aHoutdoors < aHindoors), the fan of the Aero_aH 100 is switched on automatically and a dehumidification period begins (active time). After about 10 minutes, the unit switches to a pause time so that the outside air, introduced via an additionally connectable or separately operated supply air unit, can mix with the indoor air. After that, the climatic conditions are compared again.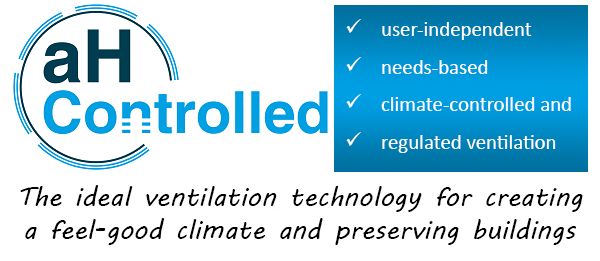 The combination of high-quality fan assembly as well as the integrated, innovative electronic unit for climate measurement and control of the fan make this product particularly interesting for many applications in the field of room dehumidification. The possibility of adding a supply air ventilation unit as well as the excellent price-performance ratio make the Aero_aH 100 a great choice for craftsmen, fitters and installers as well as for property owners and managers.
About ZILA GmbH
Today, ZILA represents competence and experience in pressure, climate, leakage and ventilation. More than 5,000 leak test devices sold worldwide are an excellent reflection of the trust placed in us.  For more than 20 years, ZILA has been a reliable partner in the field of heating, ventilation, climate and refrigeration technology. For our products and application-specific solutions, we use innovative sensor technologies to develop the optimum device for our customers. In view of the rapidly changing technologies, standards and legal regulations, close and continuous cooperation with our customers and partners has become part of our company philosophy. Our experienced engineers and technicians will be pleased to help you find the best solution for your application.