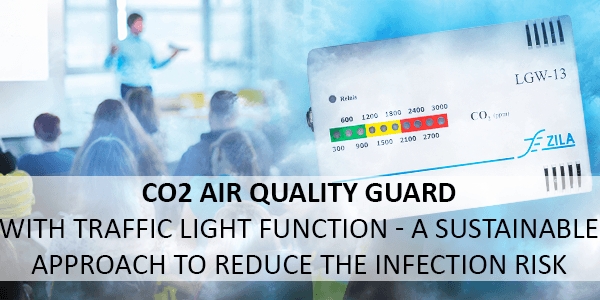 CO2 air quality guard with traffic light function - a sustainable approach to reduce the infection risk
How to assess and maintain the indoor air quality is being discussed all over the world these days. The main reason for this is that crowds of people in closed rooms are currently only allowed if great efforts are made in terms of hygienic indoor air conditions. Therefore, solutions are needed to improve the indoor air quality and to reduce the risk of virus infection by aerosols in the air. A very promising approach can be a decentralised room ventilation system, depending on the CO2 concentration.
PART 1: Measuring and assessing the indoor air quality with an air quality guard
Indoor air quality assessment
For 150 years, the concentration of carbon dioxide in the room air has been considered as an indicator for air quality (the so-called Pettenkofer value). So, the higher the CO2 concentration in the air, the less oxygen it contains. CO2 is released into the room air during many human activities, such as breathing, speaking, singing, coughing and sneezing.
In present days, cowds of people in enclosed spaces are largely prohibited or are only permitted under strict conditions with respect to hygiene of the indoor air. The more people stay in a room and the smaller the room is, the faster the quality of the indoor air decreses.
For example, the CO2 model calculator of the Lower Saxony State Health Office, is a useful tool to find out about the development of the CO2 concentration in everyday situations.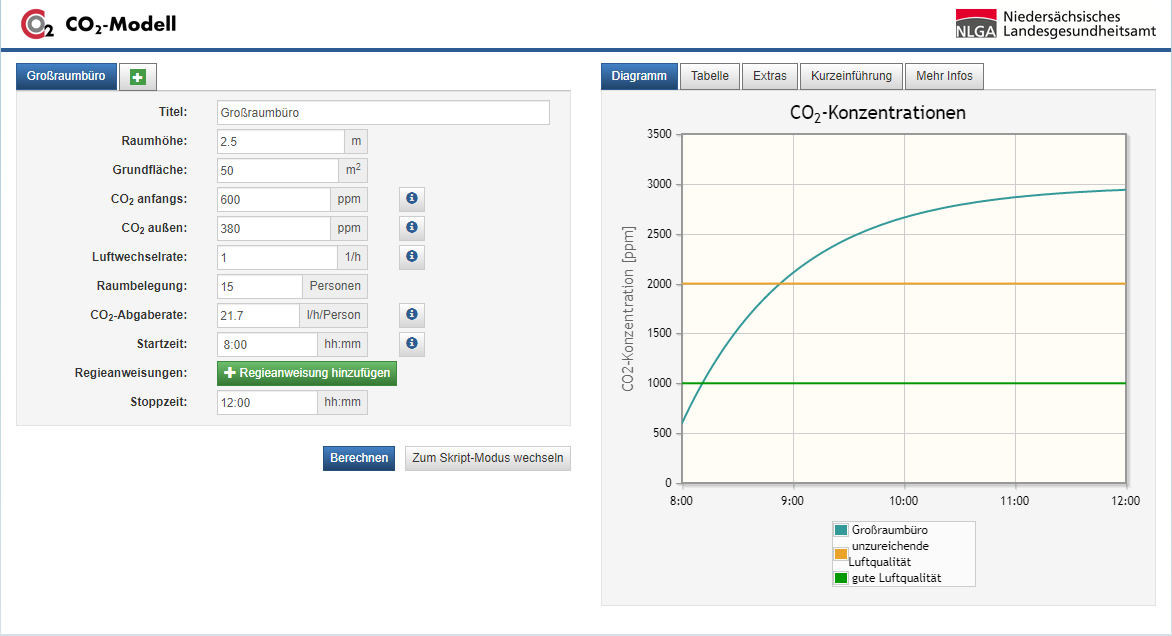 CO2 model software of the Lower Saxony State Health Office
Open-plan office (blue curve)
The CO2 limit value for hygienically clean air (green line at 1,000ppm) is already reached after approx. 25 minutes, although the people in the room don't do any activity.
After an hour, the indoor air quality is already insufficient (2,000ppm).
By midday, the CO2 concentration reaches almost 3,000ppm and is five times higher than at 8 am. This value causes tiredness to the people inside the room affected.
This model calculation shows that, already within a short period of time, the CO2 concentration is considerably higher in enclosed spaces, which means that the risk of infection with dangerous diseases may incease due to aerosol accumulation and insufficient ventilation. Besides schools, kindergardens, office spaces and gyms, many leisure facilities, such as bars, restaurants, cinemas, museums, concerts and more are the affected (source: German newspaper "Frankfurter Allgemeine Zeitung") For this reason, reliable ventilation concepts are needed that automatically ensure a targeted exchange of room air.
Ventilation as a measure of removing areosols
The Robert Koch Institute (RKI) advises to ventilate enclosed spaces regularly since "aerosols  - even after a longer period of time - still float in the air and spread in enclosed spaces" (source: RKI). In a study, infectious viruses could be detected up to three hours in a room (source: RKI). How long those particles really stay in the air, depends on several factors. The key factors for this, amongst others, are temperature, humidity and the size of the particles. Therefore, the RKI recommends that "risks from ventilation and air-conditioning systems, causing a possible spread of the pathogen to other rooms in the form of aerosols, must be assessed and minimised on site. Sufficient air exchange [...] must be ensured"(source: RKI). Since CO2 is an odorless gas, a simple measuring device is required for room users in order to measure the CO2 concentration in rooms.
Air quality traffic light - a device for measuring CO2 with display and warning signal
An indoor air quality guard is a measuring device providing a information on how to evaluate the indoor air quality, based on the currently measured CO2 concentration in a room. This is usually displayed on a traffic light with three LEDs: red, yellow and green. Which LED lights up depends on the CO2 sensor used and, where applicable, on the adjustable limit values. The biggest disadvantage is the low accuracy of such displays.


The air quality guard - a traffic light with advanced functions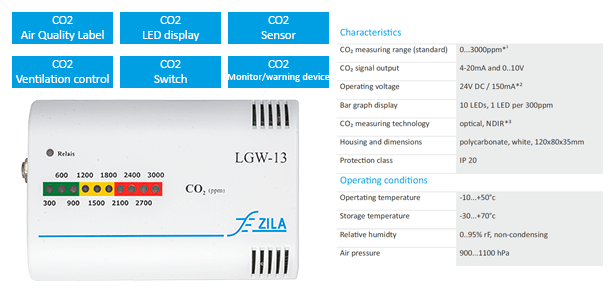 An air quality guard is an advanced version of the air quality traffic light as it offers even more important functions. The air quality guard LGW-13 can be applied in all indoor spaces in order to monitor the CO2 level. By simply reading-off the CO2 concentration, the negative effects of CO2 on human well-being can be detected at an early stage. In this way, the air quality guard LGW-13 helps to ensure hygienically clean indoor air and contributes to the staff's health and safety at work.
The ZILA air quality guard with integrated CO2 sensor technology and a measuring range of up to 3,000 ppm has specifically been designed to detect, measure and control the CO2 concentration in the room air for all indoor spaces.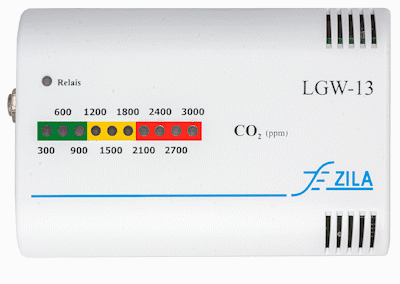 The device is operated with a 24 V power supply unit and has innovative display, protection and switching functions for air quality assessment. This makes this compact and light-weight device unique in flexibility of its application and usage locations.
CO2 sensor and CO2 ventilation control
The measuring principle of the integrated CO2 sensor is based on an optical measuring method with an accuracy of +/- 30 ppm, which makes the sensor technology highly sensitive and extremely accurate.
The air quality guard LGW-13 also has 4..20 mA and 0..10 V signal output to be used as a precise CO2 sensor. Due to its potential-free switch output, the air quality guard is perfectly suitable for controlling and switching any common 24-volt-ventilator and electric window opener. With that, the LGW-13 becomes an automated CO2 ventilation control for offices, class rooms and gyms.
Air quality traffic light and CO2 monitor
The compact CO2 measuring device shows the room air quality (CO2 concentration) at any time via the ten-digit LED display.
CO2 warning device
Besides the easy, optical way of assessing the room air quality via the LED display, the device also offers an acoustic warning function. For the protection of people and plants against CO2, an integrated acousic alarm will ring out as soon as the CO2 concentration reaches the limit value of 3000ppm. The horn, which is adjustable in two steps, warns and shows you that ventilation is necessary.
Summary
The LGW-13 is a reliable indicator for the CO2 content indoors and room air quality assessment.
The room air is exchanged regularly in order to minimise the risk.
Decentralised solutions are the better option, compared to centralised solutions because the air is not spreaded, but directly removed.
Positive side effect: Room air quality improves considerably and remains at a consistantly very good level
Positive side effect: People's capabilities increase with high air quality.
Aerosols are safely and directly removed from the room.
Lower risk of transmission through areosols
Easy to upgrade
The air traffic light is useful for assessing the CO2 concentration.
The air quality guard offers a lot more functions as well as more precise measurement results and display.
More information
PART 2: Automated CO2 ventilation controls with an extended range of functions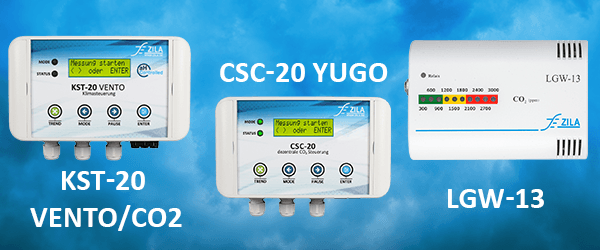 Ventilation controls with CO2 sensor
Controlling supply and exhaust air fans for room ventilation using a CO2 control, is a very promising approach in order to minimise the infection risk caused by aerosols. This requires a control device with a CO2 sensor which, on the one hand, provides precise measurements, and, on the other hand, offers a sufficient measuring range for this pupose. In this way, needs-based room ventilation can be achieved, which keeps the indoor air quality at a healthy level.
Guidelines for the air exchange rate
The so-called air exchange rate (Quelle: heizung.de) describes how often the air in a room is exchanged every hour. An air exchange rate of 1 accordingly means that the air in a room is completely exchanged once an hour. Since the oxygen content of the air in frequently used rooms is used up much more quickly, air exchange rates of approximately 10 times the room volume are recommended. In order to achieve this, tilt or shock ventilation is not sufficient at all. It takes supply air fans increasing the introduction of fresh air, as well as exhaust air fans removing the contaminated air efficiently.
CO2 limits indoors - known for a long time

| | | |
| --- | --- | --- |
| ppm | Air quality | Action required |
| 350 - 700 | good | City air outdoors; recommended for lounges |
| > 1.000 | marginal | Limit value for hygienically clean air (Pettenkofer value); ventilation measures necessary |
| 800 - 1.400 | bad | Limit value for office spaces; value in poorly ventilated flats |
| 1.400 - 3.500 | contaminated | Measured values in classrooms after one lesson; intensive ventilation necessary |
| > 2.000 | inacceptable | Ventilation concept required! |
| > 3.500 | inacceptable | Maximum values after a film in the cinema |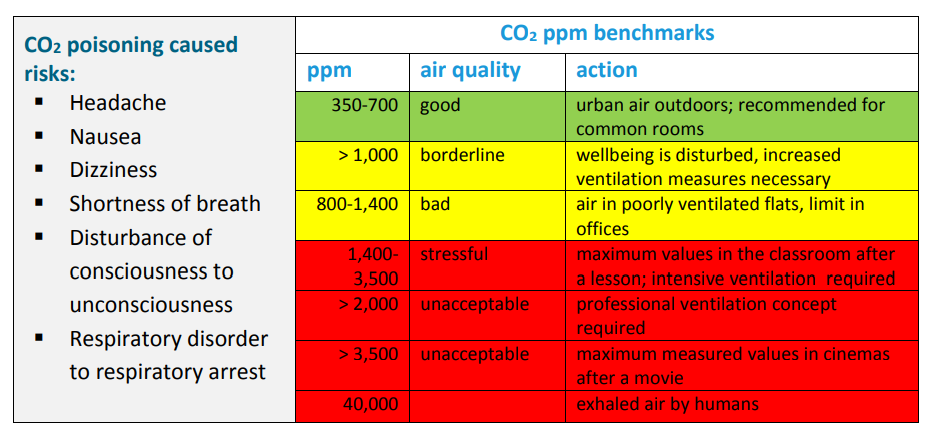 Decentralised ventilation to prevent droplet infections
Controlled room ventilation by measuring the CO2 concentration improves the room air quality and keeps it at a safe, healthy level. This is also confirmed by the German Trade Association for Wood and Metal in agreement with other trade associations: "Regular ventilation enhances hygiene and improves the air quality, as the number of pathogens in the room air can increase in enclosed spaces. Ventilation reduces the number of fine droplets in the air which possibly contain pathogens."
So now the question arises which ventilation concept should be selected. Basically, for rooms and buildings, we can distinguish between centralised and decentralised ventilation. The disadvantage of a centralised ventilation concept is that the contaminated air must be transported through the building via a system of ventilation ducts, pipes or lines and is then distributed between the rooms. Everyone has seen this before, especially in industrial plants and large office complexes. However, achieving the intended effect of removing aerosols from rooms cannot be accomplished - in fact, this results in the opposite effect.
In contrast, there are decentralised ventilation concepts. These are also referred to as individual room or individual volume. Consequently, they are more suitable for removing any potential pathogens and aerosols from a room. Mixing and spreading air to other rooms is avoided and each room can be ventilated individually. For this reason, decentralised ventilation for classrooms, individual or open-plan offices, as well as lounges can be considered a very good solution.
Air quality traffic light: Controlled, decentralised ventilation with CO2 sensor
A high CO2 content in the room air suggests "stale" air, which may also be contaminated with aerosols. Therefore, the CO2 concentration should be monitored permanently. For this purpose, decentralised ventilation systems consist of a control unit (ventilation control) and a CO2 sensor, as well as one or more supply and exhaust air elements, according to the room volume. Depending on the type of control unit, fans, ventilation flaps, electric window openers and other suitable devices for ventilation can be connected. These so-called actuators are then switched on automatically by the ventilation control and switched off after a defined ventilation cycle. Alternatively, the ventilation process can be continued until a high indoor air quality is reached. For this, the ventilation control should also include adjustable control parameters.
For such decentralised ventilation, the CO2 sensor must be installed at head or seat height. Ideally, this is the height at which the people using the room usually stand, sit or work. Therefore, in an office where people sit most of the time during their work, the CO2 sensor should be installed at a lower level than in a standing café, for example.
Product name
Description
Data sheet

CO2 control CSC-20 YUGO

The air quality control CSC-20 YUGO is equipped with an automatic mode and is able to control fans for supply and exhaust air, based on the measured CO2 concentration. The device also indicates the current measurements via a display and can be configured by the operating keys. 
 

KST-20 Vento with air quality monitoring function

The KST-20 Vento/CO2 is a combination of a dehumidification and a CO2 air quality control. The device monitors both the absolute humidity and the CO2 concentration in the room. Depending on the set limit values and the measurements, the control automatically triggers actuators for the supply and exhaust air.
 

CO2 sensor ZCS-5000

The ZCS-5000 is a self-contained CO2 sensor for measuring and monitoring the carbon dioxide concentration in the ambient air. It comes with a cable connection and a warning horn. Thanks to its NDIR technology, the sensor is both durable and maintenance-free.
 

CO2 sensor CS-11

The digital CO2 sensor CS-11 is a precise sensor for measuring the CO2 concentration in mobile applications. Its advantageous rod design allows the CS-11 to be used on mobile machines and in a wide variety of vehicles. Thanks to the optical and precise measuring principle used (non-dispersive infrared absorption measurement or short 'NDIR'), makes the sensor maintenance-free and ensures a long service life.
 
 
 
Disclaimer: This article is based on findings from various public bodies such as the RKI and industry associations. We cannot accept any liability for recommendations derived from this information. 
We are looking forward to your enquiry!
ZILA GmbH
Neuer Friedberg 5
98527 Suhl, Germany
Phone: +493681 – 86-7300
Email: This email address is being protected from spambots. You need JavaScript enabled to view it.
Last modified onFriday, 26 March 2021 14:47