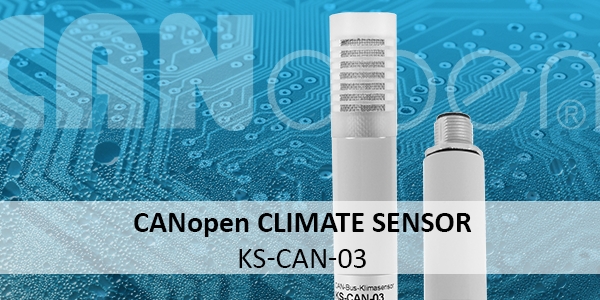 CANopen climate sensor KS-CAN-03: Combined temperature and humidity sensor with CAN bus signal output
Both in industrial process optimisation and for the protection of sensitive electronic components and systems, monitoring climatic conditions is becoming more and more important. Climate sensors can be used to monitor the environmental conditions at various hotspots and expand knowledge about the status of the overall system. Climate sensors combine sensor elements with high measurement accuracy for the detection of temperature and relative humidity.
Depending on the application, the sensor elements can be integrated into various robust and compact designs. These range from simple plastic and synthetic housings to rod sensors with stainless steel housings. Furthermore, different output signals can be selected for climate sensors. In addition to the two analogue standard output signals 4...20mA and 0...10V, the CAN bus system is particularly noteworthy in the automotive and transport sectors as well as for (mobile) machines. This is exactly what makes our climate measurement sensors a flexible component in machine and plant construction.
CANopen bus climate sensor KS-CAN-03

With the KS-CAN-03, ZILA offers a rod-shaped climate sensor in an anodised aluminium housing for measuring relative humidity and temperature indoors and outdoors. This sensor, which is based on the CANopen protocol, has no mechanical adjustment elements. The calibration values are stored digitally, giving this sensor excellent long-term stability.
The KS-CAN-03 operates on the CAN protocol standard CANopen 2.0A and uses the physical layer according to DIN 11898 (high-speed CAN up to 500kBaud). Short response times due to its gauze cap and miniature sensor element and features such as LSS slave for setting the node ID and baud rate, as well as node guarding, make this CAN bus climate sensor a flexibly configurable product with an excellent price-performance ratio.
Advantages
Cost savings through prevention of downtimes
Temperature measurement from -40...80°C and relative humidity measurement in the range of 0...100% rH
High measuring accuracy
CAN bus interface and CANopen protocol
Compact and robust design for industrial use
Easy integration into new and existing plant and control concepts
Technical data at a glance
Sensor element

Relative humidity sensor

Temperature sensor

Capacitive measuring element, betauungsfest
Semiconductor
Measuring resolution: 12 Bit
Sample rate: ab 5ms

 

Measuring range relative humidity: 0…100% rH
Deviation: ±2 % (10...90 % r.F.)
Settling time: 4 s

Measuring range temperature: -40…80°C
Deviation: ±0.5 K (5...40 °C)
Settling time: 20 s
Last modified onTuesday, 20 April 2021 09:22