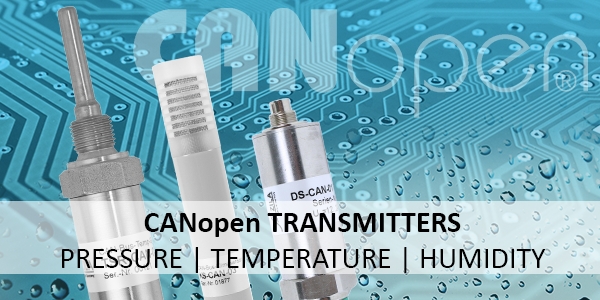 CANopen sensors becoming increasingly important for many industrial applications
Most people are familiar with the serial field bus CAN (Controller Area Network) from the automotive and vehicle industry. However, the possible applications of CANopen in combination with sensors go far beyond.
ZILA has been offering pressure sensors, temperature transmitters and combined climate sensor elements with CANopen interface for many years. For example,  CANopen bus transmitters can be found in many industrial machines in a wide range of sectors (printing machines, injection moulding machines) as well as in rail and ship transport (ticket vending machines, locomotives), in building automation and in the medical industry.
Advantages of the CANopen protocol
The reasons for the variety of applications clearly lie in the simple and flexible configuration options of this standardised embedded network. CANopen especially reduces the developer's workload when implementing time-critical processes and bit timing by providing standardised communication objects (COB). Therefore, sensors with CANopen bus are greatly demanded in the fields of measurement and testing. Our wide range of CANopen sensors comprises the areas of pressure, temperature and relative humidity (climate). Consequently, they cover a wide range of industrial applications that require reliable measurement and testing.
We can configure your CANopen climate sensor with the required baud rate and Node ID upon request. However, the LSS function also allows for additional, customised settings later on.
Overview CANopen sensors
CANopen bus sensors for combined pressure, temperature and climate measurement

DTS-CAN-01

Pressure and temperature measurement within one and the same sensor

KS-CAN-03

Recording climatic conditions (temperature and relative humidity)

Pressure and temperature measuring cell
Applicable in combination with any media compatible with stainless steel

Climate transmitter KS-CAN-03 for temperature and humidity measurement
Digital climate sensor for relative humidity and temperature
Short response times due to gauze cap and micro-sensor element
CANopen bus sensors for pressure and temperature measurement in the air and other media

Pressure measurement in media
Temperature measurement in the air
Temperature measurement in media
DS-CAN-01
TSL-CAN-03
TSR-CAN-03
Pressure transmitter


Relative pressure, absolute pressure

2...4000 bar

Applicable with any media compatible to stainless steel

Temperature sensor

Temperature

(room air)

Temperature sensor

Temperature

(screw-in probe)
CANopen input and output modules - the best way to convert sensor signals into CANopen 
Modern control systems for the automotive industry, automation technology and for test benches as well as many other industrial applications increasingly require a standard bus system, such as CAN bus. However, the problem is that not all sensors used for pressure, temperature, CO2 and humidity support CANopen. Also, certain technical specifications and requirements do not allow the use of a standard sensor with a CAN interface.
CANopen I/O modules make it possible to record voltage and current signals and to connect to PT100/PT1000 sensors and transmitters directly.
In this case, universally applicable input and output modules for the integration of sensor and control signals into CANopen test and automation systems can be an efficient and cost-effective alternative to expensive sensor replacements, as they convert incoming electrical signals (0-10V, 4-20mA, ...) from the sensors into CAN bus.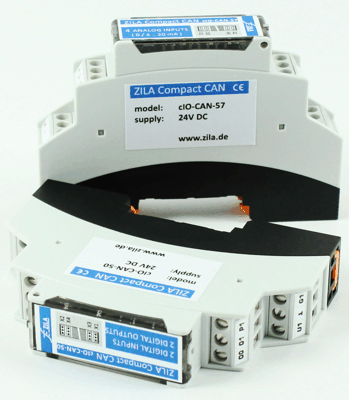 Product details: CANopen I/O modules
Universal CANopen bus I/O modules with DIN rail mounting for easy integration into CANopen test and automation systems
Related links and documents
Last modified onWednesday, 14 April 2021 15:34