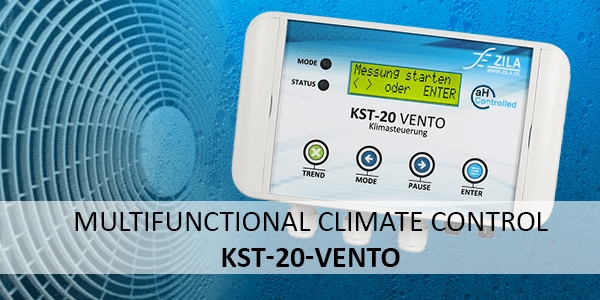 KST-20 Vento - multifunctional climate control for intelligent room dehumidification, ventilation and cooling
The new, compact climate control KST-20 Vento, for automated and controlled room dehumidification, ventilation and cooling, is an advanced device to control a wide variety of ventilation devices.
A quick look at the improvements:
Electronics miniaturisation
Significantly smaller and more compact housing
Ventilation according to DIN 1946-6
Temperature-dependent cooling available as operating mode
More extensive connection options, for example for multi-stage fans
Simplified and more intuitive menu navigation
The product name KST-20 Vento was derived from the Italian word for "wind force". This device is very easy to operate and configure thanks to its intuitive menu navigation, so that the optimum parameters for the required application can be set quickly and easily. At the same time, the integrated display clearly indicates all settings and the measured climate values.
Our integrated aH-Controlled technology constitutes the centrepiece of this climate control.
Furthermore, its intelligent software is programmed to compare the climatic conditions inside and outside a room and is able to control all common 230 V supply and exhaust air elements, depending on the specific application.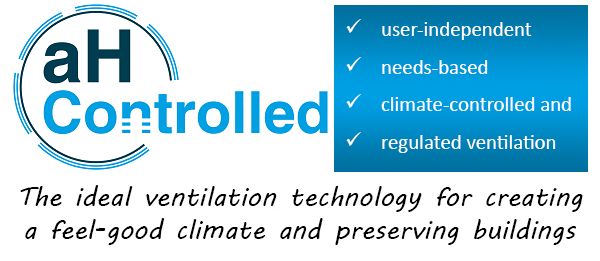 The varying and fluctuating environmental conditions (temperature [T] and relative humidity [rH]) are measured via an indoor and an outdoor climate sensor, which are directly connected to the climate control by a cable. From these measurands, the actual water vapour content in the air for the indoor and outdoor area is calculated and compared in order to determine the absolute humidity [aH]. In this way, an automatic ventilation process is only initiated if ventilation is required to achieve the expected ventilation success within a room or building. So we can conclude that the aH-Controlled technology is an extremely energy-efficient and economical method of room ventilation for many applications.

With its three operating modes for ventilation, dehumidification and cooling, the KST-20 Vento can be used flexibly in almost any living, working or industrial space.
Living space ventilation according to DIN 1946-6
For living spaces, the device complies with the DIN standard 1946-6, and, with that, can distinguish between different ventilation levels in a controlled manner.
Temperature-dependent cooling
By simply adjusting the configuration parameters, the device becomes a temperature-dependent cooling control for factory and production halls as well as server rooms and other sensitive electrical installations.
Dehumidification on the basis of absolute humidity
In dehumidification mode, the climate control KST-20 Vento helps to prevent mould, to protect buildings and to maintain a comfortable feel-good climate. Moisture is removed from the room in a controlled and reliable manner and thus an optimum temperature-humidity ratio is automatically ensured with respect to absolute humidity.
Comfort functions
In addition to the automatic operating modes for ventilation, dehumidification and cooling, the range of functions of the KST-20 Vento includes even more comfort functions. With the integrated timer, pause and active times for the ventilation devices can be set to the minute. A ventilation process can be started manually at any time, using a button on the control housing. The "frost protection function" prevents the monitored room from cooling down too much, while the "dry protection function" keeps the humidity in the room at a healthy level for both people and the building.
Areas of application and use
Typical applications for the climate control KST-20 Vento
Dehumidification of rooms and buildings, such as cellars, archives, museums and churches
Cooling of production halls and server rooms
Living space ventilation, according to DIN 1946-6
Ventilation of meeting and classrooms, sports halls and gyms
Operating modes and comfort functions
Room dehumidification by comparing the absolute humidity
Room cooling by comparing the indoor and outdoor temperature
Room ventilation according to DIN 1946-6
Timer function
Frost protection
Dry protection
Manual ventilation
Indication of indoor and outdoor climate
Extension options through additional sensors, e.g. for measuring the indoor air quality (CO2)
Technical data
Connections
Seperate connections for supply and exhaust air elements up to 500 W max.
Alternatively, the following devices can be connected:

One-step fans,
Two-step fans,

Speed-controlled fans (0…10 VDC)
230V motorised window openers
12V ventilation flaps
Climate sensors
Measuring range humidity: 0…100% rH,
Measuring accuracy humidity: ±2%
Measuring range temperature: -40…+80°C
Measuring accuracy temperature: ±0.2°C
Signal output: I2C
General
Voltage supply: 230 VAC
Protection class: IP 65
Dimensions (LxWxH): 160 x 90 x 50 mm
Housing: High-quality ASA+PC (UL 94 V-0) for heavy-duty use, flame-retardant and self-extinguishing
Standard scope of delivery
Climate control
Integrated indoor climate sensor
Wired outdoor climate sensor (10m)
Optionally, the following cable lengths of the indoor climate sensor are available: 2.5m, 5m or 10m 
Mounting and operating instructions
Last modified onTuesday, 20 April 2021 09:33