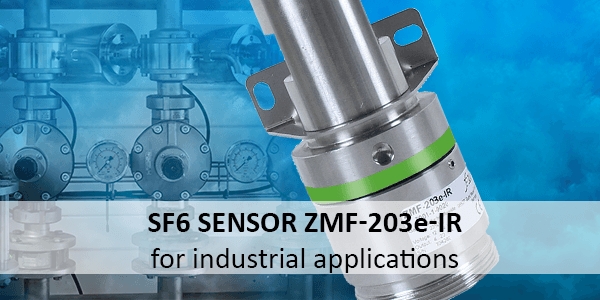 New product: Sensor for sulphur hexaflouride concentration measurement
The colour- and odourless gas sulphur hexaflouride (SF6) poses an often underestimated threat to us humans, when dealing with industrial applications. In order to make these applications even safer and to keep the potential danger for both people and machinery as low as possible, we have now expanded our portfolio in the field of gas detection with our new SF6 sensor ZMF-203e IR.
In this article we would like to address some important aspects of dealing with sulphur hexaflouride (SF6) and give you some first impressions about the features of this new sensor.
Sulphur hexaflouride - an invisible threat for us humans
Characteristics of SF6
Sulphur hexaflouride - or short SF6 - is a heavy, non-flammable, colourless and odourless gas. It is not soluble in water and, just like molecular nitrogen or noble gases, it is very inert. This means that reactions with other chemical compounds can only take place to a limited extent, due to the substance's molecular composition. Besides its gaseous state, SF6 can also occur in solid or liquid form. It reaches the gaseous state of aggregation at a temperature of -63.8 °C, whereas the liquid state can only be reached under high pressure (from 2.26 bar). This is the reason why liquid SF6 is always stored in special gas bottles to avoid frostbite of the human skin.
However, the most important fact for us humans with regard to the characteristics of the substance is its density: it is about five times as high as that of the air we breathe, which makes exhaling the gas particularly difficult for our lungs, once it has been inhaled. This leads us directly to the next important question: How can the gas affect the human body?
Effect on the human body
Currently, there is a major discussion about an increasing number of media reports regarding careless handling and dangerous misuse of gases. In particular, the effect of inhaling SF6 for lowering the sound of one's voice has been addressed.
However, the danger of this substance is often completely underrated, since, after only a few breaths, inhaled sulphur hexaflouride can cause:
suffocation,
limited ability to move,
unconciousness as well as
uncontrollable shortness of breath or even breathing stops.
Here is a few examples of consequences resulting from this:
Oxygen deficiency
Irreversible damage to the central nervous system, accompanied by life-long signs of paralysis or even
Sudden death
This permanent damage to our body, including death from suffocation, should not be underestimated under any circumstances, and, if necessary, adequate preventive measures should be taken at an early stage, e.g. by using appropriate sensor technology for measuring the SF6 concentration.
Product innovation: Robust sulphur hexaflouride sensor ZMF-203e IR for industrial applications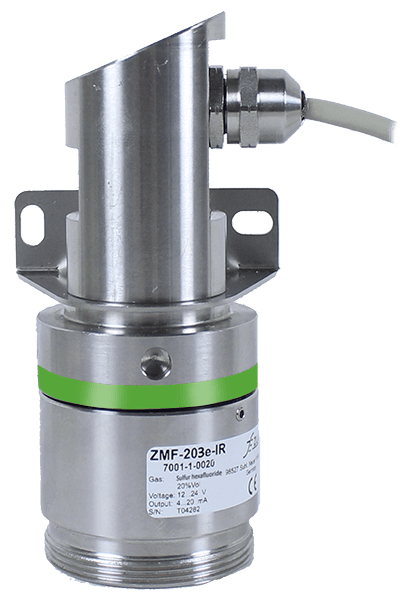 Our new SF6 sensor ZMF-203e IR, with its excellent product features and extensive approvals, is a perfect addition to our product range in the field of gas measurement technology.
Its wide measuring range of 0...2,000 ppm and the extended temperature range of
-20 °...+50 C° allow the device to be applied in the refrigeration and electronics manufacturing sectors. The sensor unit in a robust stainless steel housing can be installed quickly and easily in electrical switchgears and can also be used to detect gas leaks, as it can be mounted directly on a wall. The innovative measuring method used (NDIR technology) ensures durability and maintenance-free operation.
Product highlights at a glance
Excellent long-term stability
Robust stainless steel housing
4...20 mA signal output
Selectable measuring range (0...1.000 ppm or 0...2.000 ppm)
Extended temperature range (-20 °...+50 °C)
SIL2 certification
ATEX certification (upon request)
Attractive price-performance ratio
Maintenance-free due to NDIR technology

Measuring principle
The measuring principle of all of our gas sensors is based on the optical measuring method NDIR (non-dispersive infrared technology).
As soon as a gas passes one of our sensors, part of it is illuminated by an IR radiator in a selected range of the infrared spectrum during this measurement process. Specified wavelength filters are set for this purpose. Since, due to their typical bonding forms, the molecules in the gas absorb infrared light to different degrees at certain wavenumbers, part of the light is not transmitted any further. The other part of the transmitted light then hits the wavelength filters, which only allow a narrow-band range to pass through unhindered. This range is then captured by the IR detector and thus an intensity measurement of the respective band is carried out.
More information and downloads
A quick look at products in the field of gas detection and their features
Prices and availability
Do you have any questions or require specific consultation for your application? We will be pleased to prepare an individual, non-binding offer and advise you on your application.
Please do not hesitate to contact us now, using the following contact options:
Phone: +49 (0) 3681 86-7300
Email: This email address is being protected from spambots. You need JavaScript enabled to view it.
Contact form.
Our experienced sales team is looking forward to your enquiry!
Last modified onWednesday, 09 June 2021 10:51