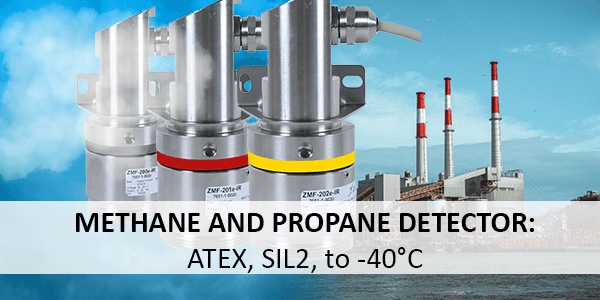 Gas detectors for monitoring the methane, propane, CO2 and SF6 concentration
With an extended product range in the field of gas detectors, ZILA GmbH is now able to offer new types of gas detectors that can be used in the extended temperature range down to -40 °C.
In addition, the sensors can be certified according to the important SIL2 and ATEX standards and offer different measuring ranges.
Let us have a quick look at the product highlights:
Operating conditions: -40 °C…+60 °C | -20 C°...+50 C° (SF6)
Storage conditions: -40 °C…+85 °C

Operating range relative humidity: 0...95 % non-condensing

Measuring principle: NDIR (dual beam technology)
ATEX certification (upon request)
SIL2 certification
Signal output: 4...20 mA
Supply voltage: 12…24 V DC
Robust stainless steel housing

Measuring principle
The measuring principle of the sensors is based on the optical measuring method NDIR (non-dispersive infrared absorption measurement).
This technology makes the sensors maintenance-free and durable. To ensure a long service life, the sensor unit is located in a robust stainless steel housing. The devices are operated with a supply voltage of 12...24 V DC and can be wall-mounted.
For further signal processing, the output signal of the sensors is a 4...20 mA signal.
More information
Last modified onTuesday, 08 June 2021 16:32